Burch & Cracchiolo Attorney Melissa Iyer Julian selected to be TGEN Ambassador
Published on Tue, February 07, 2017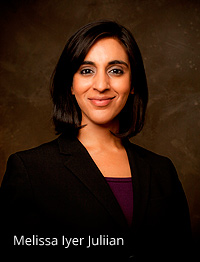 (March 7, 2017…Phoenix, AZ) Valley attorney Melissa Iyer Julian, a partner with the law firm of Burch & Cracchiolo, P.A., has been tapped to serve as a TGEN Ambassador. The program is an invitation-only group of emerging leaders in science, business and government taking on the mantle of leadership in the community. Ambassadors change the future of medicine through philanthropy, networking and advocacy.
Julian has been practicing with Burch & Cracchiolo since 2006. Her practice emphasizes complex business litigation matters, including contract disputes, partnership disputes, financial fraud, and real estate disputes. She has also represented a number of governmental institutions in complex litigation matters, including civil appeals to the 9th Circuit Court of Appeals and the United States Supreme Court.
Julian serves as an executive board member of the Arizona Women's Leadership Forum and on the editorial board of AZ Attorney magazine. She was recently named one of the "Most Influential Millennials" in the Valley by Arizona Business Magazine.
Julian earned her J.D. cum laude, from Southern Methodist University Dedman School of Law in
2006 and her B.A., English, from Southwestern University in 2002.
About Burch & Cracchiolo, P.A.
With more than 41 attorneys in its Phoenix office, Burch & Cracchiolo, P.A. (bcattorneys.com) was founded 47 years in 1970. The firm's lawyers are leaders in the areas of business and corporate law, construction, estate and wealth preservation planning, family law, finance, labor and employment, litigation and real estate. Serving corporate, governmental and individual clients throughout the Southwest and nationally, Burch & Cracchiolo is known for outstanding and cost-effective representation that emphasizes client objectives. The firm has offices in Phoenix, Arizona; Las Vegas, Nevada; and Orange County, California. In order to better serve clients nationally and internationally, Burch & Cracchiolo is a member of Primerus, an international alliance of 170 law firms from 120 cities around the world. For information, visit bcattorneys.com or contact Chris Long at 602-234-8746.