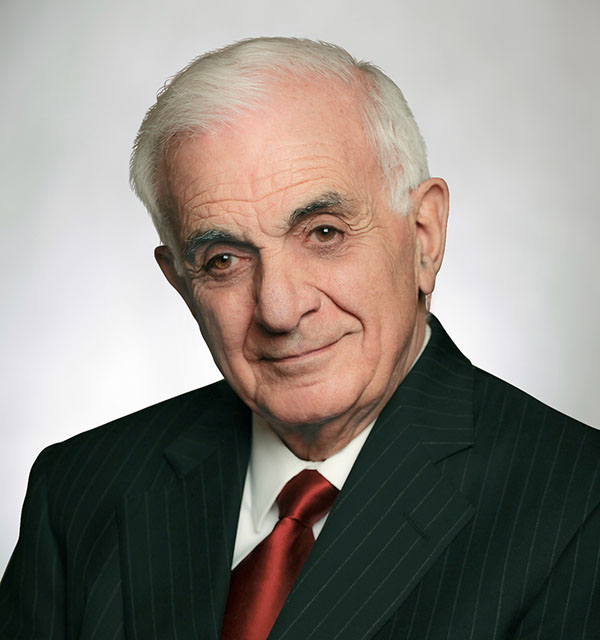 Daniel F. Cracchiolo
Dan was born in Detroit in 1929, the second of five children born to Italian immigrant Andrea Cracchiolo and his wife Carmelita. In 1941 their young family moved to a house in Tucson located a few blocks from the University of Arizona, where Dan graduated from law school in 1952. After a clerkship with the Hon. Evo DeConcini of the Arizona Supreme Court, Dan served as a First Lieutenant in the Air Force and worked as a Deputy County Attorney under William Mahoney, who remained his mentor and friend for decades.
Dan then entered private practice and quickly earned renown as one of the most formidable litigators in the state. He was a courtroom titan who was among the last of the great generalists – he handled trials including criminal defense, contract disputes, insurance defense, plaintiff's personal injury, medical malpractice, legal malpractice, divorce and probate disputes – and he was also a sage advisor on business and real estate matters to a multitude of clients in over 60 years at the Bar, enjoying an active practice until he was nearly 90. Dan was indomitable but at the same time humane, and his natural expression of emotions in the courtroom ranging from anger to sadness to humor set him apart from his more staid peers and bonded him to jurors. This led to success in the courtroom and to professional recognition.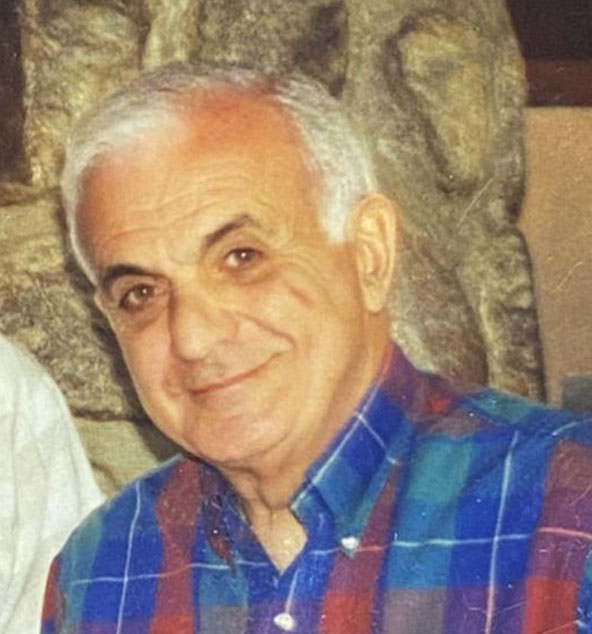 Dan was a proud member of the International Academy of Trial Lawyers, was listed in the Best Lawyers in America in two categories and has been listed in every issue of Southwest Super Lawyers since its inception in 2007. He received an Award of Special Merit from the Arizona State Bar in 2003 and was inducted into the Maricopa County Bar Association Hall of Fame in 2010. He was awarded an honorary Doctorate of Humane Letters by the University of Arizona in 2005 for his service to his alma mater, and the James E. Rogers School of Law at the University of Arizona dedicated the Daniel F. Cracchiolo Law Library in his honor in 2008. Yet through all of these accolades Dan retained his sense of self. He always prided himself on being a self-described "dirty shirt lawyer."
Dan's proudest professional accomplishment, however, was forming the law firm of Burch & Cracchiolo in 1970 with his lifelong partner, the late Frank Haze Burch. Both Dan and Haze proudly proclaimed that over their many decades as partners and leaders of the firm they never exchanged an angry word. As the firm grew to its present size of over 40 lawyers. Dan trained and mentored generations of young attorneys, many of whom practice in the firm to this day – 14 of the firm's lawyers have been with Burch & Cracchiolo more than 24 years. Dan valued loyalty above all and would gruffly forgive almost any failing by an attorney who had earned his trust.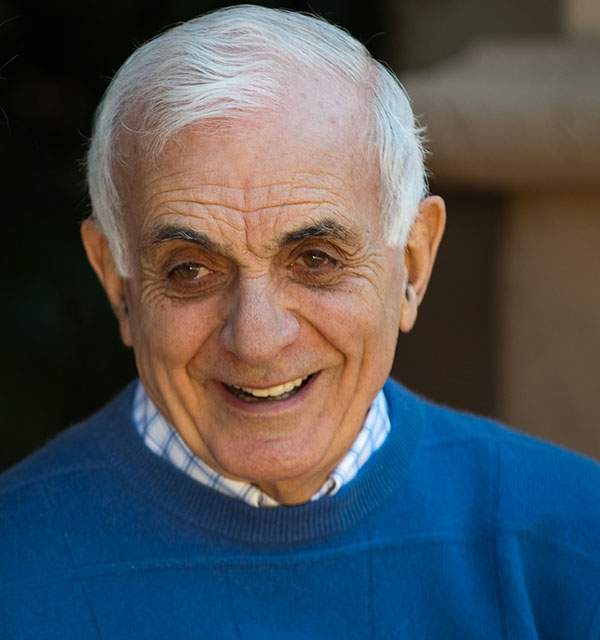 Beyond his legal accomplishments, Dan was also philanthropic. He served as a regent for Brophy College Preparatory, a board member and past president of COMPAS, a member of the Advisory Board of Homebase Youth Services and a board member for ChildHelp USA. He served on the Board of Bashas' for over three decades. His lasting charitable contribution, however, was as founder, Chairman and CEO of the Steele Foundation, which was funded by Dan's longtime clients, Horace and Ethel Steele. Under his stewardship the Foundation's corpus multiplied over threefold and more than $100 million in bequests have been distributed to beneficiaries in Arizona including Steele Indian School Park, Barrow Neurological Foundation, Burton Barr Library, Phoenix Art Museum, Arizona Science Center, Desert Botanical Gardens, Virginia Piper Cancer Center, Heard Museum, and the Herberger Center. The Foundation endowed the Daniel F. Cracchiolo Chair of Constitutional Law at the Sandra Day O'Connor School of Law and in 1992 funded the Steele Pediatric Research Center at the University of Arizona, a medical research facility dedicated to the eradication of children's diseases. And the Steele Foundation is part of Dan's legacy – his daughter Marianne now serves as its CEO.
Yet the catalogue of his accomplishments does not provide a complete portrait of Dan Cracchiolo. He was small in stature, but he was larger than life. No one worked harder, yelled louder or laughed harder – his raucous laughter echoed up and down the halls, often triggered by some absurdity he had witnessed in court that he couldn't wait to share. His playful expressions to the firm's lawyers included, "How long have you worked here, not including tomorrow?" He lapsed into a nap on the drop of a dime, smoked cigars good and bad, swore like a sailor rather than an Air Force vet, and loved his dogs. But his purest love was saved for his children and grandchildren, who were the great delight of his life.
Dan Cracchiolo, 93, passed at his home on June 1, 2022, surrounded by his family.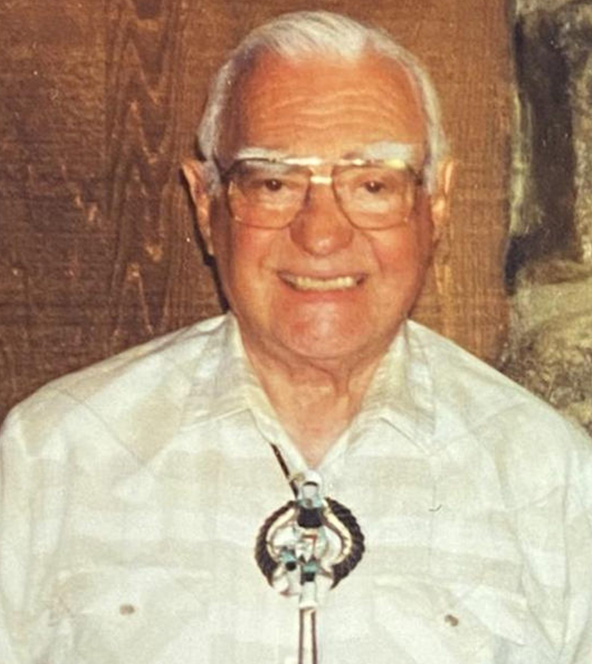 Frank Haze Burch
A Phoenix native, Frank Haze Burch distinguished himself in the field of law during his many years of practice. He attended the University of Arizona and received his law degree. He served as a Deputy County Attorney of Maricopa County before entering private practice and forming Burch & Cracchiolo, along with Dan Cracchiolo and several other attorneys. Haze was a highly regarded real estate, zoning and planning attorney who, over the course of his long career, assisted clients in the development of many of the Valley's hallmark commercial, industrial, residential and mixed use projects. Haze was also a distinguished advocate who argued cases before Arizona and Federal Courts, including the United States Supreme Court.
Throughout his lifetime, Haze devoted his time and expertise to many community causes, with special emphasis on education and human services. He served on the Boards of the Phoenix Union High School District, Maricopa Community College District and the advisory board of the Salvation Army. He was a founding member of the Phoenix Rotary 100 Club and national delegate to the American Kennel Club. Haze was the recipient of numerous awards including the Salvation Army's Sally Award, a Special Commendation award from the 100 Club and the Learned Hand Human Relations Award, conferred by the Phoenix Union High School and College District.
Frank Haze Burch passed away on September 25, 2005. His dedication to the law, his family, his firm and his community continue to inspire us today.
Frank Haze Burch — Husband, father, family-man, animal-lover — co-founded Burch & Cracchiolo, P.A. in 1970. "Haze" was our partner, mentor and friend. We honor Haze's tradition, appreciate all that he did for us and for many others, and cherish his memory.
In 2011 Frank Haze Burch was inducted into the MCBA Hall of Fame in the Pioneers category.