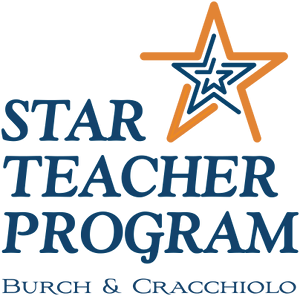 Burch & Cracchiolo Star Teacher Program
Do you know a dedicated teacher who inspires students, is a great role model for the teaching profession and who enriches their school community? Teachers are educators, counselors, cheerleaders, and, in many cases, the adult who has the greatest positive impact in the life of a child.
Burch & Cracchiolo law firm is proud to honor these educators by awarding $500 monthly to a deserving teacher.
We feel Star Teachers are at outstanding schools and have the support they need to be super stars. The principal, staff and entire student body should be recognized.
Many teachers personally pay for classroom supplies, costs for field trips, and other non-covered costs that arise during the school year. Help us to honor them and give them the recognition and funds they need to continue to inspire our next generation of students.