(August 15, 2017….Phoenix, AZ) Burch & Cracchiolo, P.A. is proud to announce that three of its senior attorneys have been named Phoenix "'Lawyer of the Year" 2018 in their respective practice areas by Best Lawyers in America. Managing partner and Firm president, Edwin C. "Ed" Bull has been selected in Phoenix Land Use & Zoning Law, Andrew "Andy" Abraham has been selected in Phoenix Real Estate Law and Martha C. Patrick has been selected in Phoenix Litigation & Controversy-Tax. Only one attorney in each major market is selected in practice areas represented.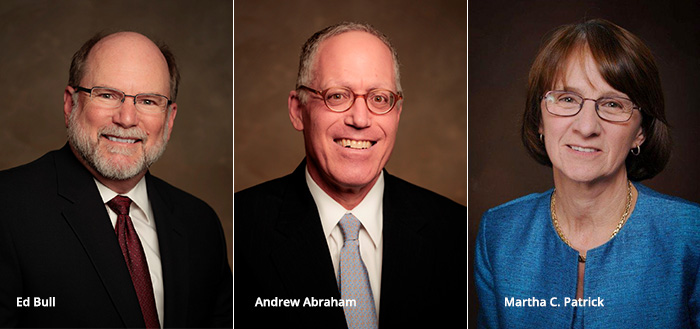 Bull is Certified as a Real Estate Specialist by the State Bar of Arizona and joined Burch & Cracchiolo in 1978, has been a shareholder since 1985. Bull is the senior member of the Firm's Zoning and Real Estate Department, and practices primarily
in the areas of land use, zoning, General Plans, Variances, Use Permits, Site Plan Approvals, development agreements, real estate transactions, and other development-related matters. Bull received his J.D. from Arizona State University in 1980 and his B.A. from the University of Nebraska-Lincoln in 1976. He is a member of the American Bar Association, Arizona Bar Association and the Maricopa County Bar Association. Bull is also listed in Chambers USA and Southwest Super Lawyers
Abraham is certified as a Real Estate Specialist by the Arizona Board of Legal Specialization. His practice focuses primarily in the areas of commercial litigation, real estate-related litigation and real estate transactions. Abraham also has substantial experience in the area of franchisor/franchisee relations and has been listed in Best Lawyers in America for Real Estate Transactions since 2008 and in every edition of Southwest Super Lawyers since 2007. He is included among Arizona's Finest Lawyers and is an AV® Preeminent 5.0 out of 5 peer review rated attorney in Martindale-Hubbell.
Certified as a Tax Specialist by the State Bar of Arizona, Patrick is a member of the Tax Sections of the American Bar Association and the State Bar of Arizona. Her practice deals exclusively with tax controversies, handling both civil and criminal matters. Drawing on her experience with the IRS and her first-hand knowledge of its practices and procedures, as well as over 20 years of experience serving clients in private practice, Patrick represents taxpayers involved in civil and criminal tax controversies before the Internal Revenue Service, the Arizona Department of Revenue and other taxing agencies, from the inception of a tax audit, the administrative appeal and litigation before the United States Tax Court, the United States District Court, the Arizona Tax Court, and the federal and state courts of appeal. Patrick is also listed as a Southwest Super Lawyer.
About Best Lawyers in America
Best Lawyers in America is the preeminent referral guide to the legal profession in the United States. Published since 1983, Best Lawyers lists attorneys in 124 specialties, representing all 50 states who have been chosen solely through a peer review process in which 3.9 million attorneys participate across the country.
About Burch & Cracchiolo, P.A.
Now with 40 attorneys in its Phoenix office, Burch & Cracchiolo is one of the Southwest's premier law firms. The firm was founded 47 years ago by Haze Burch and Dan Cracchiolo and today the firm's lawyers are among the most highly regarded and recognized leaders in the areas of business and corporate law, construction, estate and wealth preservation planning, family law, finance, labor and employment, litigation, personal injury and insurance defense, real estate and tax controversy litigation.