Wendi Sorensen is an experienced litigator and insurance defense attorney at Burch & Cracchiolo. Wendi is a Southwest Super Lawyer and was named one of Arizona's Top 25 Women Attorneys by Super Lawyers in 2013.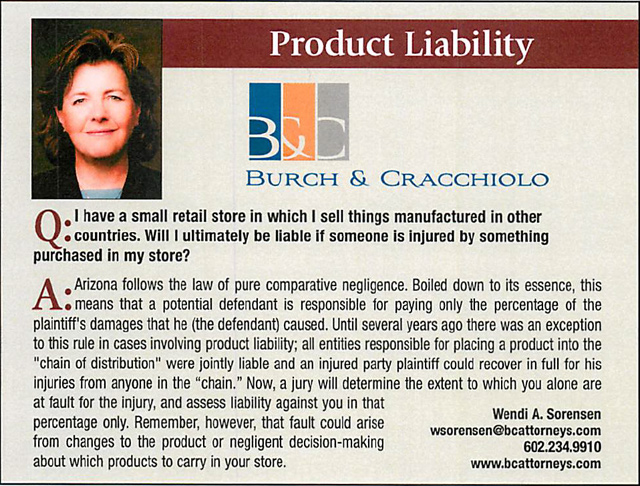 Q: I have a small retail store in which I sell things manufactured in other countries. Will I ultimately be liable if someone is injured by something purchased in my store?
A: Arizona follows the law of pure comparative negligence. Boiled down to its essence, this means that a potential defendant is responsible for paying only the percentage of the plaintiff's damages that he (the defendant) caused. Until several years ago there was an exception to this rule in cases involving product liability; all entities responsible for placing a product into the "chain of distribution" were jointly liable and an injured party plaintiff could recover in full for his injuries from anyone in the "chain." Now, a jury will determine the extent to which you alone are at fault for the injury, and assess liability against you in that percentage only. Remember, however, that fault could arise from changes to the product or negligent decision-making about which products to carry in your store.