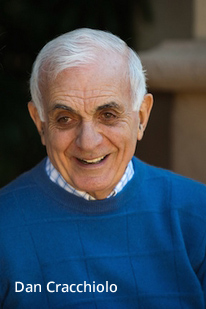 The Steele Foundation has made a grant award of $2 million to the Sandra Day O'Connor College of Law at Arizona State University to endow the Daniel Cracchiolo Chair in Civil and Criminal Law, thus founding the largest named chair in the school's history.
"With this type of support, we anticipate that our ability to draw an even more prominent pool of talent to ASU Law will be further strengthened," said Douglas Sylvester, dean of ASU Law. "With this gift, ASU Law will dedicate resources to innovative education opportunities, allowing our highly knowledgeable faculty members to excel in their work."
In recognition of this gift, ASU Law will name its new downtown Phoenix executive conference room at the Arizona Center for Law and Society after Cracchiolo, chairman and CEO of the Steele Foundation and co-founder of one of Phoenix's most prominent law firms, Burch & Cracchiolo.
"I am humbled by our board of directors' decision to bestow this honor in my name. It is wonderful to have my name associated with the ASU Law, and I am equally ecstatic our grant will provide scholarships for first-generation law school students," said Cracchiolo. "For over 60 years I have practiced law in Arizona, and I am excited to see ASU Law coming into downtown Phoenix. I'm thrilled our foundation will be an integral part of supporting this move."
A graduate of the University of Arizona Law in 1952, Cracchiolo considers Phoenix his home and has received numerous accolades for his leadership role within the legal community. In 1970, Cracchiolo co-founded the firm of Burch & Cracchiolo, P.A. He is an inductee of the Maricopa County Bar Association Hall of Fame; a member of the American Board of Trial Advocates; the American Judicature Society; the International Academy of Trial Lawyers; and is listed in two categories within the "Best Lawyers in America."
Established in 1980, the Steele Foundation has a long tradition of supporting early-childhood education and programs that promote first-generation college attendance and graduation. With this gift, the foundation is expanding its focus to higher education and is partnering with ASU Law as it continues to offer a diverse and comprehensive selection of programs and courses to its students.