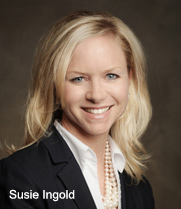 Burch & Cracchiolo partner Susanne E. "Susie" Ingold has been elected to the board of directors of The Arizona Humane Society. She has been committed to AHS since 2005 and has been a member of the "Compassion with Fashion" annual fundraising luncheon committee since 2010.
Ingold has practiced at Burch & Cracchiolo for fifteen years, concentrating her practice in labor and employment, commercial and general liability litigation and construction. She also serves as co-chair of the firm's Construction Defect and General Liability section.
Ingold received her J.D. from the University of Arizona and her B.A. with honors from Stephens College in Columbia, Missouri. Ingold also currently serves on the University of Arizona Law College Association board of directors. Recently, she was a member of Valley Leadership's Class XXXIV which concluded in June 2013.
About Burch & Cracchiolo, P.A
Now with 43 attorneys in its Phoenix office, Burch & Cracchiolo is one of the Southwest's premier law firms. The firm was founded 43 years ago and today the firm's lawyers are among the most highly regarded and recognized leaders in the areas of business and corporate law, construction, estate and wealth preservation planning, family law, finance, labor and employment, litigation, personal injury and insurance defense, real estate and tax controversy litigation. bcattorneys.com.

About The Arizona Humane Society
Founded in 1957, the Arizona Humane Society has spent over half a century striving to improve the lives of animals while alleviating the suffering and elevating their status in society. The safeguard, shelter, heal, adopt and advocate for animals in need while inspiring community action and compassion on their behalf. www.azhumane.org