(January 28, 2020…Phoenix, AZ)...The law firm of Burch & Cracchiolo, P.A. is proud to announce Chris Hamlin of Silver Valley Elementary School as the January 2020 recipient of the "B&C Star Teacher Award." Hamlin is a 6th grade teacher who has been in education for 15 years. He was awarded a check for $500 to use for classroom art supplies and/or a field trip, and a certificate of recognition.
Silver Valley is a brand new school of 600 students in the Queen Creek Unified School District.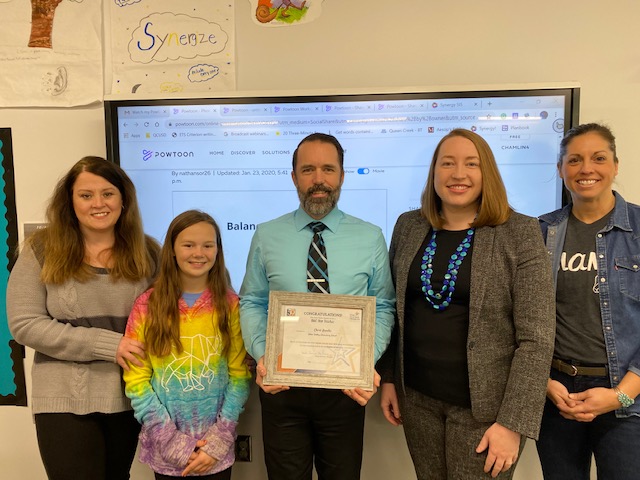 Photo credits (from left): Nominator parent Jamie Thatcher, student Julia Thatcher, honoree Chris Hamlin, B&C attorney Laura Meyer, principal Allison Carmichael
Hamlin was nominated by Silver Valley parent Jamie Thatcher who wrote (in part):
Mr. Hamlin is the epitome of human kindness and dedication with a dash of witty sarcasm. In our moves we have attended 7 different schools in a few states and worked with dozens of teachers. I have never seen a more dedicated teacher. Chris goes above and beyond in helping his students. He often misses his lunch tutoring kids and he helps them before class too. Mr. Hamlin has spent many, many, Saturdays in school working extra and prepping. He has embraced new technology and stem to help his kids advance their learning. He is the type of person that words do not do him justice. My daughter is dyslexic, she learns differently, she suffers from at times debilitating anxiety and has been bullied in the classroom and put down. We were so very nervous starting a new school again, but she comes home every day smiling or giggling about a Mr. Hamlin story. Chris takes the time to help each kid no matter how they learn be successful.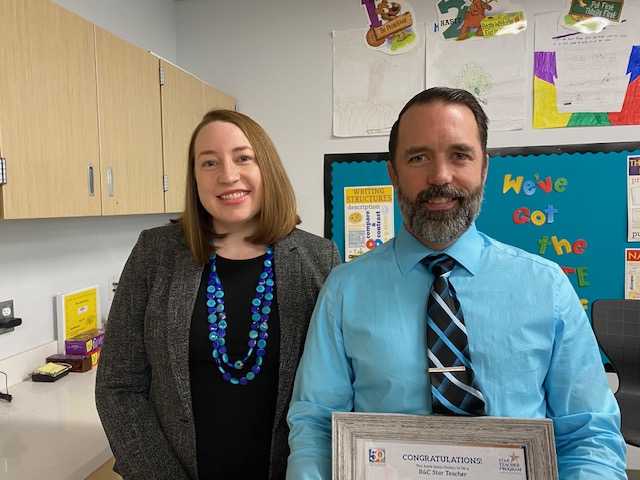 Hamlin was presented the award by B&C attorney Laura J. Meyer.
A Valley teacher is chosen each month to receive $500 through a nominating process on the firm's website www.bcattorneys.com. Nominations will be accepted from students, former students and parents who wish to honor and thank a teacher who has had a great impact on their life. Many teachers spend their own money to augment the costs of classroom supplies, field trips and other non-covered costs that arise throughout the school year. B&C hopes to alleviate that burden for one deserving teacher each month.
Nominations are open to all teachers in K-12 who teach in Maricopa County. Winners will be notified and then presented a check at their school by a member of Burch & Cracchiolo. Photos and/or video will be taken to post on the firm website and social media. To nominate go to www.bcattorneys.com,click on the "Nominate a Star Teacher" button and tell us why you think your teacher deserves the B&C Star Teacher Award..
About Burch & Cracchiolo, P.A.
Now with 39 attorneys, Burch & Cracchiolo is one of the Southwest's premier law firms. The firm was founded in 1970 by Haze Burch and Dan Cracchiolo and today the firm's lawyers are among the most highly regarded and recognized leaders in the areas of business and corporate law, construction, estate and wealth preservation planning, family law, finance, intellectual property, labor and employment, litigation, personal injury and insurance defense, real estate and tax law. The firm has a long history of giving back to the community through non-profit sponsorships, donations and volunteer efforts.