St. Louis the King 2nd grade teacher awarded $500
(February 19, 2020…Phoenix, AZ) The law firm of Burch & Cracchiolo, P.A. is proud to announce Jennifer Weworski of St. Louis the King Catholic School as the recipient of the "B&C Star Teacher Award." Weworski is a 2nd grade teacher who has been in the teaching profession for 15 years. She was awarded a check for $500 to use for classroom art supplies and/or a field trip, and a certificate of recognition.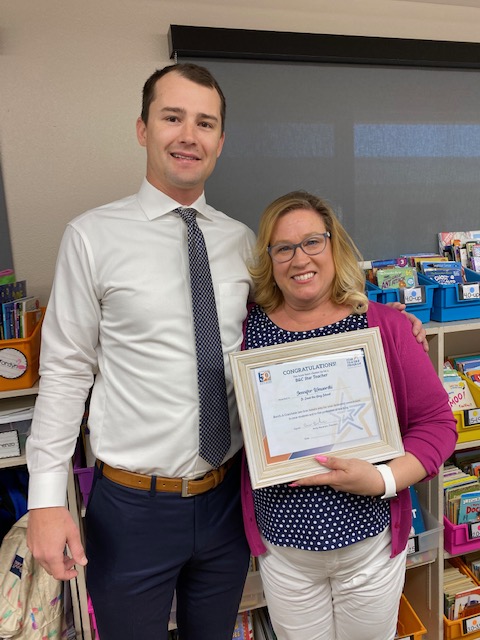 Weworski was presented the award by B&C commercial litigation attorney Matt Skelly.
Weworski was nominated by 2 parents and a peer mentee who wrote, in part:
"Ms. Weworski always goes above and beyond for her students. I have had the pleasure of learning from her as I prepare for my own career in teaching. Ms. Weworski has been my mentor for the last two years and I can only hope to make the same impact on my students as she does with her own. She does whatever she can to ensure her students are in a positive environment where they feel loved and important regardless of their home situations. Spending the first day in her classroom, I could tell how much her students loved her. Each time I came in hey would share what they learned the day before while I was gone with such enthusiasm. Any chance I get, I come and volunteer when it works with my college schedule because not only do I love the environment she has created but I love learning from her. I hope you consider Ms. Weworski for this award!"
"Mrs. Weworski is a teacher who goes above and beyond for every child in her class. She makes sure she teaches each kid individually at their own pace without sacrificing other children's learning. She is creative and makes each year special for our children. I feel private schools have a hard time earning awards or scholarships as is so something like this would mean so much to our small school."
"An amazing teacher that my kids had the good fortune to have. Dedicated, caring and helpful a teacher, always available for her students, spending her own free time and her own money to make her classroom a pleasant environment for her students. A wonderful human being."
Jenifer Weworksi responded to receiving the award by saying:
Thank you so much for this honor. You cannot imagine how much this means to me and my students. I have a couple of pie in the sky dreams that this award may begin to help with. I finished my Masters 2 years ago and am considering becoming nationally board certified and/ or a fellow in ESL from Notre Dame. This award may be just the little nudge that I needed.

I believe there is always more for me to learn.

On a side note, I may be the first high school drop-out that has worked her way through a GED, AA, BSEd, a M.Ed and Autism Specialist Certificate because I feel so strongly about educating all children. I truly appreciate Burch & Cracchiolo for recognizing teachers for who we are and what we do.
A Valley teacher is chosen each month to receive $500 through a nominating process on the firm's website www.bcattorneys.com. Nominations will be accepted from students, former students and parents who wish to honor and thank a teacher who has had a great impact on their life. Many teachers spend their own money to augment the costs of classroom supplies, field trips and other non-covered costs that arise throughout the school year. B&C hopes to alleviate that burden for one deserving teacher each month.
Nominations are open to all teachers in K-12 who teach in Maricopa County. Winners will be notified and then presented a check at their school by a member of Burch & Cracchiolo. Photos and/or video will be taken to post on the firm website and social media. To nominate go to www.bcattorneys.com, click on the "Nominate a Star Teacher" button and tell us why you think your teacher deserves the B&C Star Teacher Award..
About Burch & Cracchiolo, P.A.
Now with 39 attorneys, Burch & Cracchiolo is one of the Southwest's premier law firms. The firm was founded in 1970 by Haze Burch and Dan Cracchiolo and today the firm's lawyers are among the most highly regarded and recognized leaders in the areas of business and corporate law, construction, estate and wealth preservation planning, family law, finance, intellectual property, labor and employment, litigation, personal injury and insurance defense, real estate and tax law. The firm has a long history of giving back to the community through non-profit sponsorships, donations and volunteer efforts.