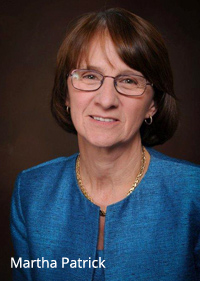 (October 19, 2015….Phoenix, AZ) Martha Patrick, Burch & Cracchiolo shareholder and certified tax specialist, was a presenter on October 17, 2015, for the Arizona Society of Certified Public Accountants (ASCPA) as a part of their Phoenix Tax Workshop series. Patrick discussed current trends with the IRS and ADOR, including Service Center examinations using Forms 1099-K and industry standards, 1099 compliance programs, implementation of the Appeals Judicial Approach and Culture (AJAC) Project, and ADOR Voluntary Disclosure and Amnesty Program. Four other financial professionals will cover topics such as military tax benefits, partnership technical terminations, Section 751 unrealized receivables and inventory and the landmark case of Golsen v. Commissioner, 54 T.C. 742 (1970).
Certified as a Tax Specialist by the State Bar of Arizona, Patrick is a member of the Tax Sections of the American Bar Association and the State Bar of Arizona. Her practice deals exclusively with tax controversies, handling both civil and criminal matters. Patrick has over 28 years of experience serving clients in private practice. She represents taxpayers involved in civil and criminal tax controversies before the Internal Revenue Service, the Arizona Department of Revenue and other taxing agencies, from the inception of a tax audit, the administrative appeal and litigation before the United States Tax Court, the United States District Court, the Arizona Tax Court, and the federal and state courts of appeal. She also represents clients in tax collection matters, negotiating installment payment agreements, offers in compromise, voluntary disclosure and amnesty matters, and seizure and forfeiture actions. Patrick has considerable experience handling levy enforcement and lien matters, currency violations and all forms of civil and criminal tax investigations.
Patrick is a peer review rated AV® Preeminent attorney who has been recognized by Best Lawyers in America in the field of Tax Law every year since 2008, Super Lawyers of the Southwest in the field of Tax Law every year since 2007, and Arizona's Finest Lawyers since its inception. In addition, Patrick was honored by being selected by Best Lawyers in America the "Lawyer of the Year' for metro Phoenix in the tax practice area in 2014 and 2016.
About the AZ Society for Certified Public Accountants
The Arizona Society of Certified Public Accountants (ASCPA) is the largest professional organization operating specifically for CPAs in Arizona. The ASCPA has more than 6,000 members, including CPAs in business and industry, public practice, government, nonprofit and education. With more than 75 years of experience serving the profession, the ASCPA has the vision and leadership to look to the future and recognize the demands of a changing marketplace.
About Burch & Cracchiolo, P.A.
Now with 40 attorneys in its Phoenix office, Burch & Cracchiolo is one of the Southwest's premier law firms. The firm was founded 45 years ago by Haze Burch and Dan Cracchiolo and today the firm's lawyers are among the most highly regarded and recognized leaders in the areas of business and corporate law, construction, estate and wealth preservation planning, family law, finance, labor and employment, litigation, personal injury and insurance defense, real estate and tax controversy litigation. Burch & Cracchiolo is a member of Primerus, an international alliance of 170 law firms from 120 cities around the world. For information, visit bcattorneys.com