Wendi Sorensen is an experienced litigator and insurance defense attorney at Burch & Cracchiolo. Wendi has been selected a Southwest Super Lawyer each year since 2012 and was named one of the Top 25 Women Attorneys in Arizona by Super Lawyers in 2013. Most recently, Wendi was named a 2014 Top Lawyer, Specialists, by Arizona Business Magazine.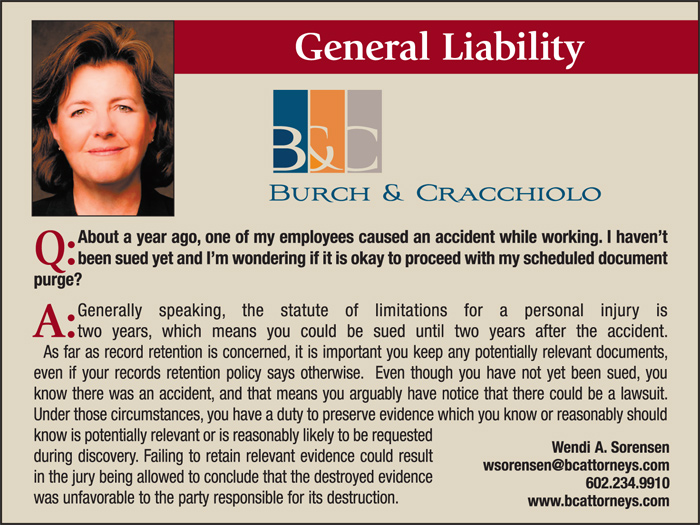 Q: About a year ago, one of my employees caused an accident while working. I haven't been sued yet and I'm wondering if it is okay to proceed with my scheduled document purge?
A: Generally speaking, the statute of limitations for a personal injury is two years, which means you could be sued until two years after the accident. As far as record retention is concerned, it is important to keep any potentially relevant documents, even if your records retention policy says otherwise. Even though you have not yet been sued, you know there was an accident, and that means you arguably have notice that there could be a lawsuit. Under those circumstances, you have a duty to preserve evidence which you know or reasonably should know is potentially relevant or is reasonably likely to be requested during discovery. Failing to retain relevant evidence could result in the jury being allowed to conclude that the destroyed evidence was unfavorable to the party responsible for its destruction.