Wendi Sorensen is an experienced litigator and insurance defense attorney at Burch & Cracchiolo. Wendi has been selected as a Southwest Super Lawyer every year since 2012 and was named one of the "Top 25 Women Attorneys in Arizona" in 2013 by Super Lawyers. Most recently, Wendi was named a 2014 "Top Lawyer" in the Specialist category by Arizona Business Magazine.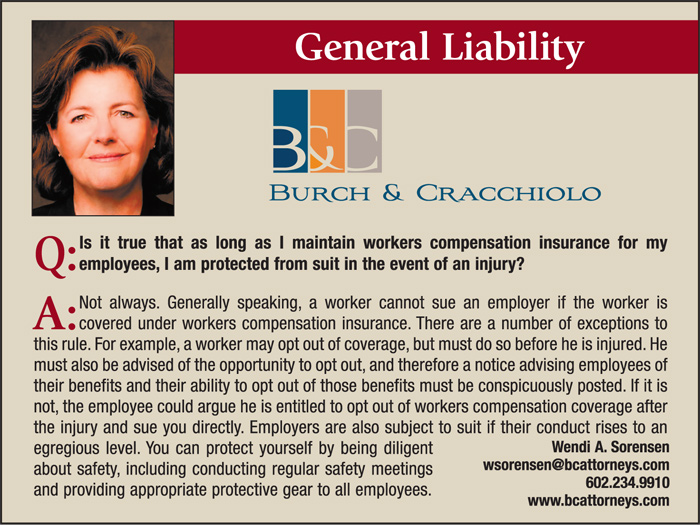 Q: Is it true that as long as I maintain workers compensation insurance for my employees, I am protected from suit in the event of an injury?
A: Not always. Generally speaking, a worker cannot sue an employer if the worker is covered under workers compensation insurance. There are a number of exceptions to this rule. For example, a worker may opt out of coverage, but must do so before he is injured. He must also be advised of the opportunity to opt out, and therefore a notice advising employees of their benefits and their ability to opt out of those benefits must be conspicuously posted. If it is not, the employee could argue he is entitled to opt out of workers compensation coverage after the injury and sue you directly. Employers are also subject to suit if their conduct rises no an egregious level. You can protect yourself by being diligent about safety, including conducting regular safety meetings and providing appropriate protective gear to all employees.