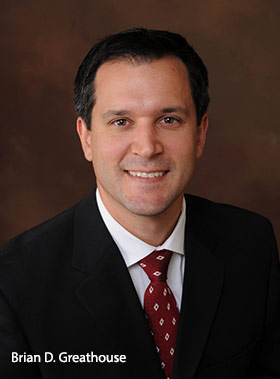 (July 27, 2017….Phoenix, AZ) Burch & Cracchiolo associate attorney, Brian D. Greathouse, has been elected president of the Peoria Diamond Club (PDC). The mission of PDC is to raise funds for local youth charities and organizations through extensive volunteer efforts through the Spring Training season. The PDC and its members are dedicated to supporting community programs that educate and enrich children's lives while enhancing their future.
Greathouse practices in the areas of real estate law, land use and zoning and business and corporate law. Greathouse received his J.D. from Arizona State University Sandra Day O'Connor College of Law in 2012. Prior to law school, he received his MBA from Arizona State University in 2005, and his undergraduate degree in civil engineering from Seattle University in 2002. He is admitted to practice in Arizona.
In addition to PDC, Greathouse serves as a board member for Native America Connections. He also sits on the City of Peoria Board of Adjustment, the Industrial Development Authority and the City Charter Review Committee.
About The Peoria Diamond Club
The Peoria Diamond Club was established in 1993 at the behest of the San Diego Padres, Seattle Mariners and the City of Peoria to partner with non-profit organizations in exchange for supplying the necessary workforce in the operation of Spring Training. The PDC shares in the revenues generated through these volunteer functions which are then distributed to local community youth organizations through a grant program.
About Burch & Cracchiolo, P.A.
Now with 40 attorneys in its Phoenix office, Burch & Cracchiolo is one of the Southwest's premier law firms. The firm was founded 47 years ago by Haze Burch and Dan Cracchiolo and today the firm's lawyers are among the most highly regarded and recognized leaders in the areas of business and corporate law, construction, estate and wealth preservation planning, family law, finance, labor and employment, litigation, personal injury and insurance defense, real estate and tax controversy litigation.