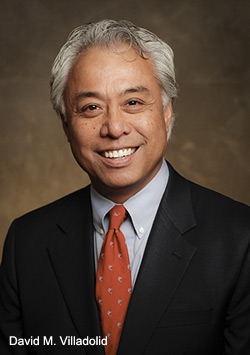 (February 6, 2012…Phoenix, AZ)...David M. Villadolid, a shareholder with the law firm of Burch & Cracchiolo, P.A., has been elected to the Primerus Board of Directors in a shareholders meeting held on December 21, 2011. Jack C. Buchanan, President and Founder of the International Society of Primerus law firms, made the announcement, stating, "David has been a tremendous supporter of Primerus and our goal of providing an international society of outstanding law firms with strong values and ethics who can work together to provide added value to our clients. David is committed to our mission and we welcome his input and insights as we continue to grow the organization."
David Villadolid is an AV® Preeminent 5.0 out of 5 peer review rated attorney in Martindale-Hubbell and the senior partner in the firm's Employment Law section. David advises management and executives on a variety of employment issues including compliance with state and federal employment laws and regulations; recruiting, hiring, discipline and termination of employees; restrictive covenants; severance agreements; reductions in force; structuring the workforce (including the use of independent contractors and leased, part-time and temporary employees); executive compensation; and the defense of discrimination and retaliation claims before the EEOC and other agencies and tribunals.
In his 28 years of legal practice, David has represented many different kinds of privately owned businesses from entrepreneurial start ups to assisting a statewide heavy equipment dealer transition to the third generation of family ownership. David's experience includes the formation of minority owned businesses, succession planning, the sale, merger or acquisition of the business and many other aspects of business matters and agreements. David has advocated on behalf of business clients in a broad range of litigation disputes, representing clients before state and federal courts, but he prefers to resolve issues and avoid litigation if possible. David has served as the 2011 Chair of Primerus' Labor and Employment section and continues to serve on the section's Executive Committee.
About Primerus
The International Society of Primerus Law Firms (Primerus) is a society of top-rated, independent, boutique law firms that have earned the right to display the Primerus seal of quality. As one of the most respected law firm societies, Primerus has over 180 member firms in over 37 countries, 42 U.S. States, and 140 cities. . Primerus has become the size of some of the world's largest law firms. However, unlike most large firms, Primerus is growing at an unprecedented pace, and is expanding throughout Europe, Asia, and elsewhere around the globe. With nearly 3,000 lawyers in the society, Primerus members, collectively, offer the breadth of expertise and jurisdictional coverage that only the world's largest law firms can offer to their clients, but at more reasonable rates. Law firms in the U.S. and Canada must be AV-rated using the Martindale-Hubbell peer review service. For firms outside of North America, consideration is given to respected resources, such as, Chambers Global Guide, Legal 500 EMEA, and IFLR 1000. Additionally, once approved for membership, every Primerus firm is audited, annually, to ensure that the legal services they continue to provide to clients are of a consistent, high quality, year after year. Each member is committed to the following standards: Integrity, Excellent Work Product, Reasonable Fees, Continuing Legal Education, Civility and Community Service.
To learn more about the world's top lawyers at Primerus and the trusted legal services the law firm association provides, visit www.primerus.com or call 800-968-2211.
About Burch & Cracchiolo, P.A.
Now with 46 attorneys in its Phoenix office, Burch & Cracchiolo, P.A. is one of the Southwest's premier law firms. The firm was founded 40 years ago by Haze Burch, now deceased, and Dan Cracchiolo one of Arizona's premier lawyers who continues to engage in a thriving practice. Today, the firms lawyers are among the most highly regarded and recognized leaders in the areas of business and corporate law, construction, estate and wealth preservation planning, family law, finance, labor and employment, litigation, real estate and taxation.

Serving corporate, governmental and individual clients throughout the Southwest and nationally, Burch & Cracchiolo is known for outstanding and cost-effective representation that emphasizes client objectives. The firm has offices in Phoenix, Arizona; Las Vegas, Nevada; and Orange County, California. A number of the firm's lawyers are recognized in Best Lawyers in America, Super Lawyers of the Southwest, Arizona's Finest Lawyers, Chambers USA, National Trial Lawyers and more. Additionally, the firm has been recognized as one of the Best Places to Work in Arizona.