Employees collected business clothes to support Dress for Success and the Salvation Army
Phoenix, AZ (June 13, 2011) Spring cleaning took on a whole new meaning at the law firm of Burch & Cracchiolo, P.A. The 40-year old Valley icon encouraged employees to clean their closets and donate to Dress for Success and the Salvation Army in a company-wide challenge to collect business clothing and shoes for those looking for employment.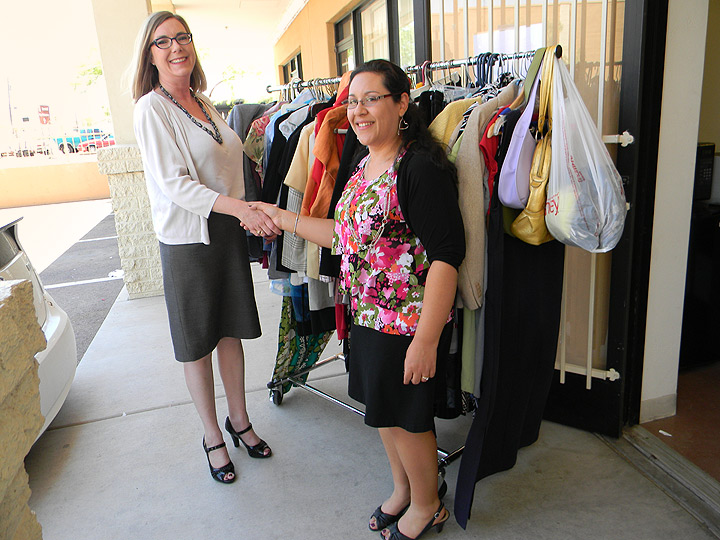 Photo: (left) Tonya MacBeth, attorney with Burch & Cracchiolo delivers collected clothing to Kathryn James, Program Manager for Dress for Success.
---

The current economic challenges are still making it difficult for many men and women to secure employment. Job hunting is expensive when considering expenses such as childcare, transportation costs and attire. "You only have one chance to make that first impression, as the old saying goes," comments attorney Tonya MacBeth of Burch & Cracchiolo. "You can have the right experience, attitude and interview responses, but if you lack confidence in your attire, it can severely reduce your chance of securing that job. Wearing a good interview suit can make all the difference."
Employees of Burch & Cracchiolo collected 80 pieces of business clothing and 15 women's suits. The clothing was delivered to Dress for Success by MacBeth who spear-headed the drive. Over 50 pieces of men's clothing were collected and sent to tornado victims in Joplin, Missouri via The Salvation Army in Phoenix. Burch & Cracchiolo employees who donated clothing had an opportunity to win Starbucks gift cards and other prizes.
"Burch & Cracchiolo has a long history of supporting our community and this is another way we can make a difference," says Firm president Ed Bull. "Our employees love the fact that we give back and this challenge is a good way to encourage everyone to participate."
About Burch & Cracchiolo, P.A.
With more than 45 attorneys, Burch & Cracchiolo, P.A. (bcattorneys.com) was founded 40 years ago by Haze Burch, now deceased, and Dan Cracchiolo one of Arizona's premier lawyers who continues to engage in a thriving practice. The firm's lawyers are leaders in the areas of business and corporate law, construction, estate and wealth preservation planning, family law, finance, labor and employment, litigation, real estate and taxation. Serving corporate, governmental and individual clients throughout the Southwest and nationally, Burch & Cracchiolo is known for outstanding and cost-effective representation that emphasizes client objectives. The firm has offices in Phoenix, Arizona; Las Vegas, Nevada; and Orange County, California. In order to better serve clients nationally and internationally, Burch & Cracchiolo is a member of Primerus, an international alliance of 170 law firms from 120 cities around the world. Firm co-founder, Dan Cracchiolo, has been a Trustee of the Steele Foundation since he helped form it on behalf of his clients, Horace and Ethel Steele. The Steele Foundation is among the Valley's top 15 foundations. For information, visit bcattorneys.com or contact Cheryl Walsh at 602-234-8793.
About Dress for Success
Dress for Success' mission is to promote the economic independence of disadvantaged women by providing professional attire, a network of support and the career development tools to help women thrive in work and in life.

Founded in New York City in 1997, Dress for Success is an international not-for-profit organization offering services designed to help our clients find jobs and remain employed. Each Dress for Success client receives one suit when she has a job interview and can return for a second suit or separates when she finds work.

Since 1997, Dress for Success has served more than 550,000 women around the world. Each year it reaches more than 50,000 women in the United States, Australia, Canada, the United Kingdom, New Zealand, Australia, the Netherlands, Mexico, Poland and the West Indies. The local Phoenix affiliate, like all Dress for Success organizations, is a not-for-profit entity with 501(c)(3) charitable status. Clothing donations and financial contributions made to Dress for Success affiliates within the U.S. are tax deductible to the extent allowed by law.
About The Salvation Army
For over 130 years, The Salvation Army has supported those in need without discrimination in the United States. Nearly 30 million Americans receive assistance from The Salvation Army each year through the broadest array of social services including job assistance services. 82 cents of every dollar spent is used to carry out those services in 5,000 communities nationwide. For more information, go to www.salvationarmyusa.org.
###