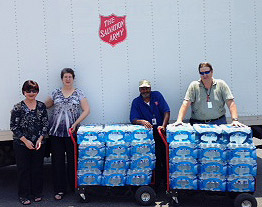 Employees of Burch & Cracchiolo recently conducted a bottled water drive resulting in 85 cases going to benefit the Valley's most vulnerable including the homeless and the elderly in our community. The drive was an effort to support the "Hydrate Arizona" campaign currently underway at the agency to combat the effects of living through an average of more than 109 days a year that top 100 plus degrees. Major sponsors of the project are Safeway and KTVK TV3.
In addition to the bottled water, the firm donated an additional $250 to support the efforts of The Salvation Army.
About Burch & Cracchiolo
Now with 42 attorneys in its Phoenix office, Burch & Cracchiolo is one of the Southwest's premier law firms. The firm was founded 43 years ago by Haze Burch and Dan Cracchiolo and today the firm's lawyers are among the most highly regarded and recognized leaders in the areas of business and corporate law, construction, estate and wealth preservation planning, family law, finance, labor and employment, litigation, personal injury and insurance defense, real estate and tax controversy litigation.
About the Salvation Army
The Salvation Army was established as part of the universal Christian church in 1865. The non-profit organization has been supporting those in need in His name without discrimination for more than 130 years in the United States. Nearly 30 million Americans receive assistance from The Salvation Army each year through the broadest array of social services that range from providing food for the hungry, relief for disaster victims, assistance for the disabled, outreach to the elderly and ill, clothing and shelter to the homeless and opportunities for underprivileged children. 82 cents of every dollar spent is used to support those services in 5,000 communities nationwide.