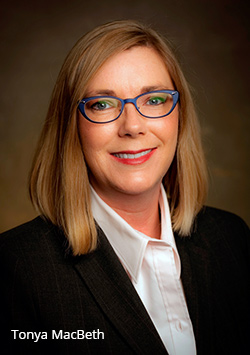 (PHOENIX AZ… February 10, 2014) The law firm of Burch & Cracchiolo, P.A. is continuing its commitment to Dress for Success by collecting and donating business attire for women to support the non-profit Dress for Success. The campaign is spearheaded by B&C attorney Tonya Macbeth who is deeply committed to the organization and its mission. The law firm had added a new component to the drive by working in conjunction with DRI who is hosting their annual Women in Law conference in February 2014 in Scottsdale at FireSky Resort. Conference attendees are being encouraged to step up and support the cause. Burch & Cracchiolo is a conference sponsor.
"You can have the right experience, attitude and interview responses, but if you lack confidence in your attire, it can severely reduce your chance of securing that job," comments Macbeth. "We at B&C appreciate the opportunity to support women who are just beginning their careers. This drive is a great way to get involved in the community."
About Burch & Cracchiolo, P.A.
With more than 40 attorneys, Burch & Cracchiolo, P.A. (bcattorneys.com) was founded 44 years ago. The firm's lawyers are leaders in the areas of business and corporate law, construction, estate and wealth preservation planning, family law, finance, labor and employment, litigation, real estate and taxation. Serving corporate, governmental and individual clients throughout the Southwest and nationally, Burch & Cracchiolo is known for outstanding and cost-effective representation that emphasizes client objectives. The firm has offices in Phoenix, Arizona; Las Vegas, Nevada; and Orange County, California. In order to better serve clients nationally and internationally, Burch & Cracchiolo is a member of Primerus, an international alliance of 170 law firms from 120 cities around the world. For information, visit bcattorneys.com.
About Dress for Success
Dress for Success' mission is to promote the economic independence of disadvantaged women by providing professional attire, a network of support and the career development tools to help women thrive in work and in life.
Founded in New York City in 1997, Dress for Success is an international not-for-profit organization offering services designed to help our clients find jobs and remain employed. Each Dress for Success client receives one suit when she has a job interview and can return for a second suit or separates when she finds work.
Since 1997, Dress for Success has served more than 550,000 women around the world. Each year it reaches more than 50,000 women in the United States, Australia, Canada, the United Kingdom, New Zealand, Australia, the Netherlands, Mexico, Poland and the West Indies. The local Phoenix affiliate, like all Dress for Success organizations, is a not-for-profit entity with 501(c)(3) charitable status. Clothing donations and financial contributions made to Dress for Success affiliates within the U.S. are tax deductible to the extent allowed by law. www.dressforsuccess.org
About DRI
DRI is the leading organization of defense attorneys and in-house counsel. Membership in DRI provides access to resources and tools for attorneys who strive to provide high-quality, balanced and excellent service to their clients and corporations. www.dri.org