First grade teacher found inspiration from one of her teachers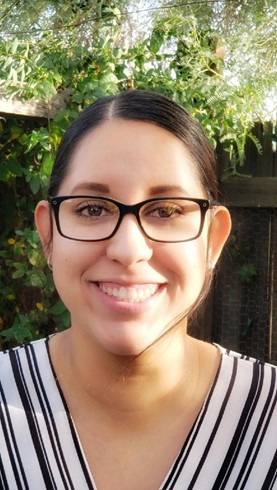 (December 14, 2021…Phoenix, AZ) The law firm of Burch & Cracchiolo, P.A. is proud to announce Cinnamon Robles as the December 2021 recipient of the "B&C Star Teacher Award."
Robles is an Ajo, Arizona-raised first-grade teacher at San Simon School in Sells, AZ on the Tohono O'odham reservation. She is in her third year of teaching and was formerly teaching fourth grade English at Eisenhower Innovation Center in the Mesa Public School District.
San Simon has an enrollment of 320 students and is a Title 1 school operated under the Bureau of Indian Education. They do not receive any Arizona state funding. Their principal is Frank Rogers who is in his 20th year at the school.
Robles was nominated by Tyler Tallant, Ken Beane and Michelle Beane who wrote:
I have never seen someone more dedicated to a child's success. She talks to her kids with respect, she listens to the child's needs, and she is willing to go out of her way to help her kids even though it isn't specified in her contract. Thank you for your time and I'll keep my fingers crossed.

I feel she would really benefit from being chosen. She is so dedicated to the success of her children. She is willing and has gone above and beyond what is stated in her contract to ensure her kids have whatever they need to be successful. I know that there are probably a lot of teachers to choose from, but it is my hope you'll take her into consideration. Thank you.

Miss Robles is an amazing teacher. She really connects with her students and makes learning fun. She is very caring and patient, she definitely loves being a teacher!

MS Robles goes above and beyond to make an outstanding learning environment. She takes the time to give each student one on one time as well as being available to the student's parents. The school is located in a low-income community therefore MS Robles understands the challenges these students face and helps any student even if the student is not in her classroom.
Robles earned her B.A. in education from Northern Arizona University in 2019.
A Valley teacher is chosen each month to receive $500 through a nominating process on the firm's website www.bcattorneys.com. Nominations are accepted from students, former students and parents who wish to honor and thank a teacher who has had a profound impact on their life. Many teachers spend their own money to augment the costs of classroom supplies, field trips and other non-covered costs that arise throughout the school year. B&C hopes to alleviate that burden for one deserving teacher each month. In addition, the school where the educator teaches receives a check for $250 to be used at their discretion.

Nominations are open to all teachers in K-12 who teach in Maricopa County. Winners will be notified and then presented a check at their school by a member of Burch & Cracchiolo. Photos and/or video will be taken to post on the firm website and social media. To nominate go to www.bcattorneys.com, click on the "Nominate a Star Teacher" button and tell us why you think your teacher deserves the B&C Star Teacher Award.
About Burch & Cracchiolo, P.A.
Now with 40 attorneys, Burch & Cracchiolo is one of the Southwest's premier law firms. The firm was founded in 1970 by Haze Burch and Dan Cracchiolo and today the firm's lawyers are among the most highly regarded and recognized leaders in the areas of business and corporate law, construction, criminal defense, estate and wealth preservation planning, family law, finance, intellectual property, labor and employment, litigation, personal injury and insurance defense, real estate, and tax law. The firm has a long history of giving back to the community through non-profit sponsorships, donations, and volunteer efforts.