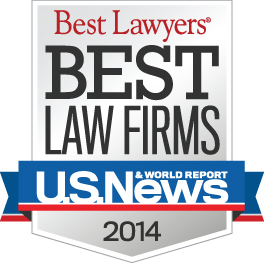 (November 4, 2013….Phoenix, AZ) Burch & Cracchiolo, P.A. has achieved first-tier rankings in Phoenix in the 2014 U.S. News Media Group and Best Lawyers "Best Law Firms" rankings. The practice areas represented are Land Use & Zoning Law, Real Estate Litigation, Real Estate Law and Tax Litigation. Nationally the firm ranked in Tier 2 in Land Use & Zoning Law.
Burch & Cracchiolo is a full-service law firm founded in Phoenix, Arizona in 1970. Deeply rooted in the Arizona community, Burch & Cracchiolo has a successful history of representing a diverse client base of large corporations, small businesses and individuals. Today, the firm boasts 42 attorneys accomplished in a variety of practice areas including business and corporate law, commercial litigation, personal injury, insurance defense, family law, estate planning and wealth preservation and labor & employment.
The firm has enjoyed an exceptional reputation for more than 43 years in the Valley of the Sun. Throughout its history, Burch & Cracchiolo has taken pride in providing clients with a balance of the finest legal services and detailed personal attention
About Best Lawyers
Best Lawyers in America is the preeminent referral guide to the legal profession in the United States. Published since 1983, Best Lawyers lists attorneys in 124 specialties, representing all 50 states that have been chosen solely through a peer review process in which 3.9 million attorneys participate across the country.
About Burch & Cracchiolo, P.A.
Now with 42 attorneys in its Phoenix office, Burch & Cracchiolo is one of the Southwest's premier law firms. The firm was founded 43 years ago by Haze Burch and Dan Cracchiolo and today the firm's lawyers are among the most highly regarded and recognized leaders in the areas of business and corporate law, construction, estate and wealth preservation planning, family law, finance, labor and employment, litigation, personal injury and insurance defense, real estate and tax controversy litigation.