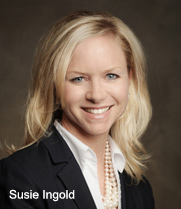 Burch & Cracchiolo partner Susanne "Susie" Ingold has been selected as one of 50 participants in Valley Leadership's Class XXXIV. The class members were selected through a competitive process from the largest number of applications the organization has ever received.
Ingold, who has practiced at Burch & Cracchiolo for fourteen years, concentrates her practice in labor and employment, commercial business litigation and construction and is co-chair of the firm's Construction Defect and General Liability section. "Susie is a tremendous asset to our Firm and to the community. Her participation in Valley Leadership will benefit all of us," says Burch & Cracchiolo managing partner Ed Bull.
Valley Leadership has sponsored the leadership institute since 1978 with more than 1,700 alumni graduating from the program. New to the program agenda this year is a partnership with the Thunderbird School of Global Management where participants will receive extensive executive leadership training designed to help them function at the highest level of their chosen career path.
Ingold received her J.D. from the University of Arizona in 1998 and her B.A. with honors from Stephens College in Columbia, Missouri in 1992. Ingold currently serves on the University of Arizona Law College Association board of directors and served as a board member for Homebase Youth Services from 2007-2010.
About Burch & Cracchiolo, P.A.
Now with 42 attorneys in its Phoenix office, Burch & Cracchiolo, P.A. is one of the Southwest's premier law firms. The firm was founded 42 years ago by Haze Burch, now deceased, and Dan Cracchiolo one of Arizona's premier lawyers who continues to engage in a thriving practice. Today, the firms lawyers are among the most highly regarded and recognized leaders in the areas of business and corporate law, construction, estate and wealth preservation planning, family law, finance, labor and employment, litigation, real estate and taxation. Serving corporate, governmental and individual clients throughout the Southwest and nationally, Burch & Cracchiolo is known for outstanding and cost-effective representation that emphasizes client objectives. The firm has offices in Phoenix, Arizona; Las Vegas, Nevada; and Orange County, California. A number of the firm's lawyers are recognized in Best Lawyers in America, Super Lawyers of the Southwest, Arizona's Finest Lawyers, Chambers USA, National Trial Lawyers and more. Additionally, the firm has been recognized as one of the Best Places to Work in Arizona.
About Valley Leadership
Since 1978, Valley Leadership has brought leadership development programs to men, women, and youth to enhance the ability of leaders to serve and strengthen the Valley community. Valley Leadership strives to provide people of diverse perspectives and backgrounds from both the public and private sectors with opportunities to connect, learn and lead. Valley Leadership fosters dialogue, promotes greater understanding of community issues and brings together people of varying ages, gender, economic status and professional backgrounds. To learn more or get involved, visit www.valleyleadership.org.