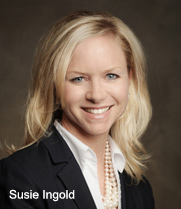 Burch & Cracchiolo shareholder Susie Ingold was recently part of a team that launched a partnership with the City of Phoenix to inspire Phoenicians to get more exercise and get in shape. The program is entitled FitPHX Get Connected! Get Healthy!
The organizing group was part of the recently graduated Valley Leadership Class 34 and included Ingold, Michael Mason, senior counselor for Pinnacle West Capital Corporation, Dana Kennedy, president, Danamite Media Consulting; Megan O'Connor, executive director, Welcome to America Project, Lisette Flores, director of legal services at Friendly House; Amy Schwabenleder, vice president community impact Valley of the Sun United Way; Wendy Villa, chief of staff for Phoenix City Councilman Daniel Valenzuela; Christine Noble, owner of Contour Architecture; Frieda Pollack, director of communications and marketing at The Rodel Foundation of Arizona.
"When we started to research existing programs aligned with our project goals, we quickly realized there was a need to move forward because everything in the community was in silos," Ingold commented recently in The Phoenix Business Journal.
FitPHX Get Healthy! Get Connected! is a 21st century approach to wellness and lifestyle that utilizes existing programs and resources and packages them as a marketing campaign via the website www.phoenix.gov/fitphx and through on-air promotion on Phoenix Channel 11.
The primary object of Fit PHX is to effectively market and connect the community to existing city health-related programs and services and encourage residents to make healthy lifestyle choices by participating in physical activities that promote personal wellness. The development team partnered with Greg Stanton, Mayor, City of Phoenix, Councilman Daniel Valenzuela and Olympian Misty Hyman.
About Burch & Cracchiolo, P.A.
Now with 42 attorneys in its Phoenix office, Burch & Cracchiolo is one of the Southwest's premier law firms. The firm was founded 43 years ago by Haze Burch and Dan Cracchiolo and today the firm's lawyers are among the most highly regarded and recognized leaders in the areas of business and corporate law, construction, estate and wealth preservation planning, family law, finance, labor and employment, litigation, personal injury and insurance defense, real estate and tax controversy litigation.
About Valley Leadership
Since 1978, Valley Leadership has brought leadership development programs to men, women, and youth to enhance the ability of leaders to serve and strengthen the Valley community. Valley Leadership strives to provide people of diverse perspectives and backgrounds from both the public and private sectors with opportunities to connect, learn and lead. Valley Leadership fosters dialogue, promotes greater understanding of community issues and brings together people of varying ages, gender, economic status and professional backgrounds. To learn more or get involved, visit www.valleyleadership.org.