Starlight Park Elementary School 4th grade teacher Alicia Russell recognized
(August 19, 2021…Phoenix, AZ) The law firm of Burch & Cracchiolo, P.A. is proud to announce Alicia Russell of Starlight Park Elementary School has been named the August 2021 recipient of the "B&C Star Teacher Award." She teaches 4th grade and has been at teaching in the Cartwright Elementary School District for 16 years. The Title I school located at 80th Avenue and Osborn in Phoenix has an enrollment of 786 students.
Russell earned her B.A. from the University of Arizona in 1997 in history and English literature and her M.A. in elementary education from The University of Phoenix Masters in 2004.
Russell was nominated by friend Jenny Patton who wrote:
There is a wonder woman named Alicia Russell who I hope we can do something extra special for. Alicia has given me permission to share her story.

We have known Alicia Russell for five years and she is a fighting force in a world of educators. She is a third-grade teacher at Starlight Park Elementary School in the Cartwright School district. She earned her Master's in Education and Gifted Endorsement and has devoted her life to being the best possible teacher and mentor! Throughout 16 years of teaching, Alicia has given selflessly to hundreds of students by being a teacher - and a tutor to students all over the valley. Now, let's rally around Alicia!

Alicia was diagnosed with colon cancer at the start of the pandemic. She has been an incredible warrior - not only fighting cancer and raising awareness about the importance of screenings, but also making sure that her students are well taken care of. She had radiation treatments in 2020, and then surgery in Nov. 2020, to remove as much of the mass as possible. She had chemotherapy treatments December through April and another surgery this summer.

Alicia is a warrior and always working to support her students and the children she tutors!! She has never complained and has put all her energy into getting back to the classroom. When she did need a sub, she shared all she was doing to ensure they were ready so the kids wouldn't miss a thing.

The motto at Starlight is "where we reach for the stars." This is so fitting for Alicia!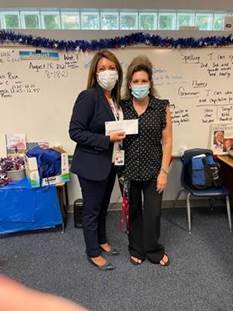 Starlight Park Elementary School principal Susanna Huntley (left) and August Star Teacher Alicia Russell
A Valley teacher is chosen each month to receive $500 through a nominating process on the firm's website www.bcattorneys.com. Nominations are accepted from students, former students and parents who wish to honor and thank a teacher who has had a great impact on their life. Many teachers spend their own money to augment the costs of classroom supplies, field trips and other non-covered costs that arise throughout the school year. B&C hopes to alleviate that burden for one deserving teacher each month. In addition, the school where the educator teaches receives a check for $250 to be used at their discretion.
Nominations are open to all teachers in K-12 who teach in Maricopa County. Winners will be notified and then presented a check at their school by a member of Burch & Cracchiolo. Photos and/or video will be taken to post on the firm website and social media. To nominate go to www.bcattorneys.com, click on the "Nominate a Star Teacher" button and tell us why you think your teacher deserves the B&C Star Teacher Award.
About Burch & Cracchiolo, P.A.
Now with 40 attorneys, Burch & Cracchiolo is one of the Southwest's premier law firms. The firm was founded in 1970 by Haze Burch and Dan Cracchiolo and today the firm's lawyers are among the most highly regarded and recognized leaders in the areas of business and corporate law, construction, criminal defense, estate and wealth preservation planning, family law, finance, intellectual property, labor and employment, litigation, personal injury and insurance defense, real estate and tax law. The firm has a long history of giving back to the community through non-profit sponsorships, donations, and volunteer efforts.