(January 16, 2014….Phoenix, AZ) Burch & Cracchiolo associate attorney, Casey S. Blais, has begun serving his year-long term as president of the Maricopa County Bar Association Young Lawyers Division. The term runs through December 31, 2014. The mission of the MCBA Young Lawyer Division is to involve young and new lawyers in serving the community and enriching the profession while focusing on the specific needs of young and new lawyers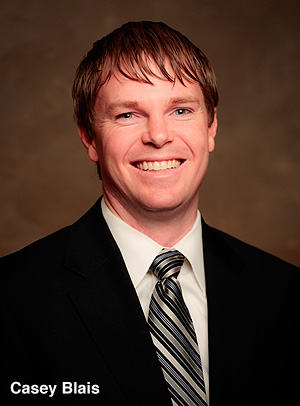 Casey Blais practices in the areas of commercial litigation, real estate law, landlord/tenant disputes, and insurance defense / personal injury litigation. He regularly represents individuals, lenders, developers, and other private and public entities. Casey received his J.D. from the Arizona State University Sandra Day O'Connor College of Law in 2008. Prior to law school, Casey attended Brigham Young University where he double majored in Linguistics and Economics. He is admitted to practice in Arizona and the United States District Court for the District of Arizona.
About Burch & Cracchiolo, P.A.
Now with 41 attorneys in its Phoenix office, Burch & Cracchiolo is one of the Southwest's premier law firms. The firm was founded 44 years ago by Haze Burch and Dan Cracchiolo and today the firm's lawyers are among the most highly regarded and recognized leaders in the areas of business and corporate law, construction, estate and wealth preservation planning, family law, finance, labor and employment, litigation, personal injury and insurance defense, real estate and tax controversy litigation.
About MCBA Young Lawyers Division
YLD sponsors the signature event Barrister's Ball and Casino Night which will benefit the programs of the Maricopa County Bar Foundation. The event is slated for March 8, 2014 at The Camelback Inn Resort & Spa.
Info is available at www.maricopabar.org.

###