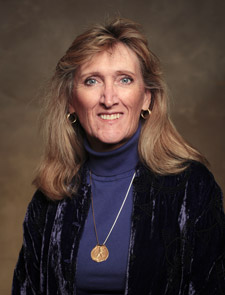 Valley attorney and real estate specialist, Clare H. Abel is the recipient of the Arizona State University Outstanding Service to the College of Law Award for the Class of 1981. Abel is a shareholder with the 41-year-old law firm of Burch & Cracchiolo, P.A. Abel served on the ASU College Alumni Board of Directors from 1984 to 1989 and is a member of the Pedrick Society of Giving at the Law School. She received her J.D. from Arizona State University College of Law in 1981.
"Clare gives back to her profession, her law school and her community with great conviction," says Burch & Cracchiolo president Ed Bull. "She is a true asset to our community and our Firm."
Clare Abel is certified by the Arizona Board of Legal Specialization as a Real Estate Specialist and has been a shareholder with the firm since 1986. She concentrates her practice primarily in the areas of Real Estate, Zoning and Land Use, and Condemnation Law. She also has done substantial work in the area of Administrative Law, including liquor licensing matters. Abel is listed in Southwest Super Lawyers and Arizona's Finest Lawyers and was honored among Who's Who in Business 2011 by The Arizona Republic/AZ Magazine. In April 2011, Abel was named as one of America's Pre-eminent Woman Lawyers by Martindale-Hubbell, placing her among the top 5% of women lawyers in the country.