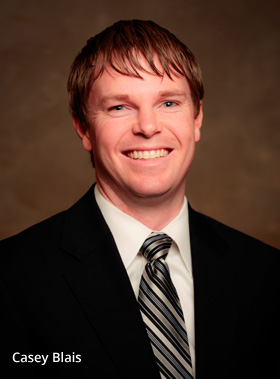 Casey Blais is currently serving as the president of the Young Lawyers Divison in the Maricopa County Bar Association. Casey is an Associate attorney with Burch & Cracchiolo, P.A.
When I first started practicing law and even during law school, I frequently heard people say, "You need to find a niche practice area." Initially, I resisted, thinking that I would become too limited and would not find work in that area. Now, several years later, I am a firm believer in specializing. No matter what stage of practice you're in, you can (and should) develop one or two specialized practice areas.
Developing a niche practice area is valuable for several reasons. First, it gives you a limited scope of the law in which to become an expert. Also, it will give you a more defined target client for marketing purposes. Clients and other attorneys will be more likely to send you work if they know that you specialize in a specific area. This month's column is designed to help you explore why it's important to find a niche and how the MCBA can help.
Why specialize?
As consumers, we instinctively believe that companies who specialize in one thing often make the best products. Think about it. You'll probably agree that Einstein's Bagels makes better bagels than a local grocery store. Or that The Cheesecake Factory makes a better cheesecake than your mother-in-law. Isn't it true that we naturally think companies who specialize in something must be doing it better? By focusing on one product line, these companies give the impression, whether true or not, that they understand their product well and are experts in their field.
The same is true in the legal profession. Those who specialize in one or two practice areas are often perceived as being more knowledgeable in that area. Potential clients with a real estate problem are more likely to search for a real estate attorney than a general practitioner. Whether true or not, they will believe that the real estate attorney will be more versed in that practice area and will be better able to handle their case.
The MCBA can help
The MCBA offers many tools designed to help you in your practice. The MCBA offers eleven different Sections: Bankruptcy Law, Construction Law, Criminal Law, Employment Law, Environmental & Natural Resources Law, Estate Planning/Probate and Trust, Family Law, Litigation, Personal Injuries/Negligence, Real Estate, Technology & Intellectual Property. If you haven't already, join an MCBA Section in your practice area. Most attorneys should be able to fit within one or two of these areas. If you are focused on family law matters, join the Family Law Section and become involved in their monthly meetings and activities. Volunteer to be a CLE speaker. You don't have to wait for someone to ask you, pick up the phone and call Laurie Williams with the MCBA at 602-682-8585 to discuss doing a CLE presentation. You'll be able to meet other specialists in your field and you will be perceived as an expert in that area. Your section membership and CLE presentations can also be added to your website bio, which will further showcase your specialized skills. From practice sections to CLE opportunities, the MCBA can help you become a specialist.
What's your niche?
Hopefully, while reading this column you have been thinking about your specialized practice area(s). I certainly have. While my primary practice is commercial litigation, I have developed subspecialties in real estate matters and judgment collection, which help set me apart. By focusing on these areas, I have received numerous case referrals from clients and attorneys. Once people know that you are good in certain areas, it becomes instinctive for them to send you new matters. I'm sure the same is true for you in your practice.
Take a few minutes to think through your primary practice area and see if you can discover your niche(s). Your specialty might be practice area based (i.e., personal injury, family law, bankruptcy, etc.) or procedural (such as personal jurisdiction, removal to federal court, etc.). With this information, think about how you can improve your recognition within your area of expertise. Perhaps you can rework your bio page, join an MCBA section, write a newsletter (or email) about a new law or regulation, join a trade organization, or volunteer for a CLE.
Don't be afraid to specialize. You'll be more focused as a lawyer and better poised to reach your target audience. Attorneys and potential clients will think of you and will want to send you work because of your knowledge and expertise. Can't you just taste that Asiago bagel with cream cheese… ah, perfection! Einstein's and others have figured out their niche, and so can you!