(April 13, 2012….Phoenix, AZ) The law firm of Burch & Cracchiolo, P.A. today announced that eighteen attorneys have been named by Southwest Super Lawyers as top attorneys in Arizona for 2012. Thirteen attorneys have been recognized as Super Lawyers of the Southwest and five have attained the title of Rising Stars.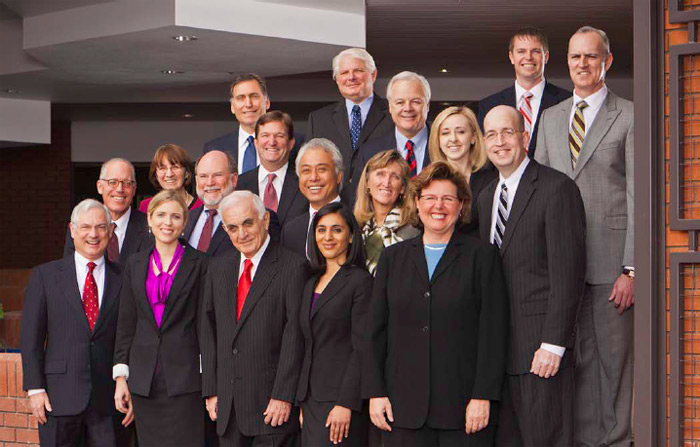 (Bottom row left to right): Brian Kaven, Jessica Conaway, Dan Cracchiolo, Melissa Iyer Julian, Wendi Sorensen
(Middle row left to right): Andy Abraham, Ed Bull, Todd Julian, David Villadolid, Clare Abel, Jennifer Boldi, Aaron Edens
(Top row left to right): Ed Fleming, Chuck Muchmore, Steve Serrano, Howard Meyers, Casey Blais

Burch & Cracchiolo's 2012 Southwest Super Lawyers include:
• Daniel Cracchiolo-Business Litigation
• Edwin C. Bull-Land Use/Zoning
• Andrew Abraham-Real Estate
• Brian Kaven-Personal Injury Defense-General
• Clare H. Abel-Real Estate
• Edwin D. Fleming-Business Litigation
• Martha C. Patrick-Tax
• Howard C. Meyers-Bankruptcy
• Charles J. Muchmore-Personal Injury Plaintiff-General
• Steven M. Serrano-Family Law
• David M. Villadolid-Labor & Employment Law
• Todd Julian-Personal Injury Plaintiff-General
• Wendi A. Sorensen-Personal Injury Defense-General
The Rising Stars include:
• R. Aaron Edens
• Casey S. Blais
• Melissa G. Iyer Julian
• Jessica Conaway
• Jennifer A. Boldi
"We are honored to be increasing our ranks in Super Lawyers with thirteen attorneys and five Rising Stars," commented Ed Bull, Shareholder and president of the Firm. "We are proud of our reputation for excellence and it is gratifying to receive accolades from our peers."
Super Lawyers selects attorneys using a rigorous, multiphase rating process. Peer nominations and evaluations are combined with third party research. Each candidate is evaluated on 12 indicators of peer
recognition and professional achievement. Rising Stars are attorneys under 40 or who have practiced for less than 10 years. Nominators are asked to nominate only those they have seen in action in a courtroom or as opposing counsel or co-counsel. Selections are made on an annual, state-by-state basis.
About Super Lawyers
Super Lawyers is a rating service of outstanding lawyers from more than 70 practice areas who have attained a high-degree of peer recognition and professional achievement. The selection process is multi-phased and includes independent research, peer nominations and peer evaluations. Published by Thomson Reuters Legal, Super Lawyers magazine features the list and profiles of selected attorneys and is distributed to attorneys in the state or region and the ABA-approved law school libraries. Super Lawyers is also published as a special section in leading city and regional magazines across the country.
About Burch & Cracchiolo, P.A.
Now with 45 attorneys in its Phoenix office, Burch & Cracchiolo, P.A. is one of the Southwest's premier law firms. The firm was founded 41 years ago by Haze Burch, now deceased, and Dan Cracchiolo one of Arizona's premier lawyers who continues to engage in a thriving practice. Today, the firm's lawyers are among the most highly regarded and recognized leaders in the areas of business and corporate law, construction, estate and wealth preservation planning, family law, finance, labor and employment, litigation, real estate and taxation. Serving corporate, governmental and individual clients throughout the Southwest and nationally, Burch & Cracchiolo is known for outstanding and cost-effective representation that emphasizes client objectives. The firm has offices in Phoenix, Arizona; Las Vegas, Nevada; and Orange County, California. A number of the firm's lawyers are recognized in Best Lawyers in America, Super Lawyers of the Southwest, Arizona's Finest Lawyers, Chambers USA, National Trial Lawyers and more. Additionally, the firm has been recognized as one of the Best Places to Work in Arizona. For more information contact Chris Long at 602.234.8746 or clong@bcattorneys.com.