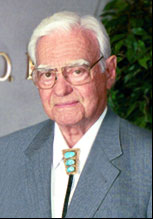 Frank Haze Burch, co-founder of the law firm of Burch & Cracchiolo, will be inducted into the Maricopa County Bar Association 2011 Hall of Fame at a luncheon hosted by MCBA on October 27, 2011 at The Hyatt Hotel in downtown Phoenix. Burch, who passed away on September 25, 2005, will be recognized posthumously. Burch was selected based on criteria which includes "a prominent and important impact on the history and development of the Maricopa County Bar and the legal profession." He joins a list of leading Arizona attorneys, including fellow founding partner of Burch & Cracchiolo, Daniel Cracchiolo, who was inducted to the Hall of Fame in 2010.
Haze Burch and Dan Cracchiolo together founded Burch & Cracchiolo in 1970 after working together on several cases beginning in 1956. Burch was a distinguished advocate who argued cases before Arizona and Federal Courts, including the United States Supreme Court. His practice concentrated primarily on land use and zoning matters, allowing him to work on some of the most influential cases in the early days of the Valley's development. Burch was a founding member of the Arizona State University Law Society in 1984 and served as president from 1984-1986. He received the Judge Learned Hand Human Relations Award in 1990 from the American Jewish Committee. Prior to entering the private practice of law, Burch served as Arizona Deputy County Attorney from 1950-1952.
Burch co-founded the Phoenix 100 Club in 1968 and was the Special Commendation recipient in 1986. Burch's father was the first Phoenix police officer to be killed in the line of duty in 1925 when young Burch was only five years old. The organization supports families of fallen officers and firefighters and provides scholarships for their children. In addition, Burch served on the Salvation Army advisory board from 1967-1988 and received the Sally Award in 1983. He was an avid dog lover and served as a national delegate for the American Kennel Club and judged international competitions.