Despite the scorching 110+ degree temperatures, French Master Law students, Solenne Desprez from Montpellier, and Nastasya Anzala from Dijon, happily made their way to Arizona in August of 2012 to learn more about the US legal system by shadowing Burch & Cracchiolo lawyers from an array of disciplines. The students are studying under the French system where a bachelor's degree is followed by a master's degree in law, and then a three-year apprenticeship with a French law firm before qualifying to take the bar exam.
Nastasya is currently enrolled in the Master Law program in Dijon, France while Solenne is following a similar program in Montpellier. They became interested in learning more about the US legal system while participating as exchange students in the Erasmus Program in Tartu at the University of Estonia in 2011. Founded in 1632, that University is the largest institution of higher education in Estonia. Participating in the Erasmus program since 1999, the consortium of participating schools seek to widen transnational cooperation between universities by promoting mobility and improving transparency and academic recognition of qualifications throughout Europe. Burch & Cracchiolo senior partner, Ian Neale, has been participating in the Center for International Legal Studies since 2008 and was an instructor for Solenne and Nastasya while he was teaching a course on the US legal system to students at the University of Estonia in May 2011. Mr. Neale recognized the active interest the students had in the American justice system and invited them to visit the Firm. The students stayed with legal assistant Lori Boukatch whose husband Serge, is French-born, and the owner of Sophie's French Bistro.
"The young ladies were bright and agile in their use of English, which allowed them, with their dedication and obvious strong work ethic to become involved in a number of complicated legal fact scenarios. It was a pleasure to have them as part of our B&C family for a month," commented Neale.
While at the Firm, Solenne and Nastasya observed courtroom proceedings, including oral argument and trials in Superior Court, as well as mediations, arbitrations and depositions. In addition, they toured the state of Arizona taking in Sedona, the Grand Canyon, Monument Valley and the Navajo National Monument.
Their stay here was at once instructive and valuable for them as well as enjoyable for the many employees of B&C with whom they interacted. We hope to see them again.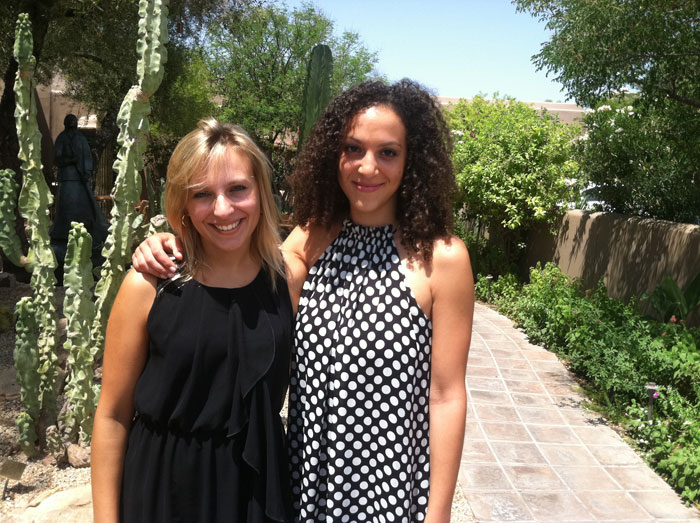 Interns Solenne Deprez (left) and Nastasya Anzala (right)