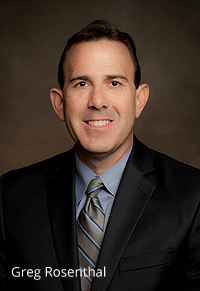 (June 2, 2016…Phoenix, AZ) Attorney Gregory A. Rosenthal has been elected as Chair of the Anti-Defamation League (ADL) Arizona Regional Board of Directors. He will serve from June 1, 2016 through May 2018. Rosenthal has been a member of the ADL Arizona Regional Board since 2007 and will take over the role of Board Chair, after having served as chair of the ADL Glass Leadership Institute, The Arizona ADL Civil Rights Committee and as Vice-Chair of the Arizona Regional Board. The mission of the ADL is to stop the defamation of the Jewish people and to secure justice and fair treatment for all citizens alike. The Arizona ADL is the sponsor of the Torch of Liberty dinner locally which honors outstanding community leaders who have made a significant contribution to promoting justice and fair treatment for all people
Rosenthal, a partner at Burch & Cracchiolo, concentrates his law practice in the area of civil litigation. He is an AV Preeminent peer review rated attorney in Martindale-Hubbell. Rosenthal received his J.D. from the James E. Rogers, University of Arizona School of Law in 1989 and his B.A. in speech communications in 1986, also from the University of Arizona.
About the Anti-Defamation League
Founded in 1913, ADL is the world's leading organization fighting anti-Semitism and discrimination of all types through programs and services that counteract hatred, prejudice and bigotry.
About Burch & Cracchiolo, P.A.
Now with 41 attorneys in its Phoenix office, Burch & Cracchiolo is one of the Southwest's premier law firms. The firm was founded 46 years ago and today the firm's lawyers are among the most highly regarded and recognized leaders in the areas of business and corporate law, construction, estate and wealth preservation planning, family law, finance, labor and employment, litigation, personal injury and insurance defense, real estate and tax controversy litigation.
Burch & Cracchiolo is a member of Primerus, an international alliance of 170 law firms from 120 cities around the world. For information, visit bcattorneys.com.