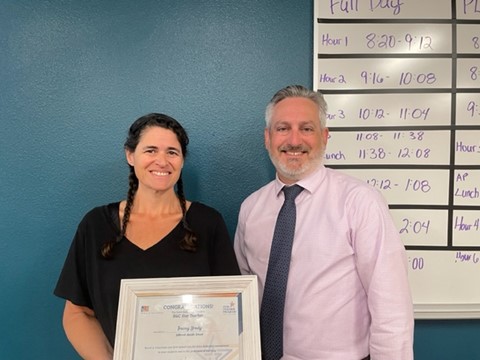 (October 25, 2022…Phoenix, AZ) Burch & Cracchiolo proudly names Tracey Brody the recipient of the October 2022 Star Teacher Award. She is a veteran teacher of 21 years who teaches 8th grade social studies at Hillcrest Middle School in Glendale, Arizona in the Deer Valley Unified School District. She received a check for $500 to be used for classroom supplies or other non-reimbursable costs.
Hillcrest Middle School received an additional check for $250 to be used at the discretion of principal, Brad Brazell.
Evan Greenwald nominated Ms. Brody with the following:
Tracey goes way above and beyond to ensure the success of her "kids" and make no mistake - once they're in her class they are her kids forever. She is available for help well into the evening, spends hours each night and over the weekends grading her students' work and gives countless hours mentoring, grading, and continually prepping for whatever is coming next. She arranged "Meet Ms. Brody at the Movies" nights for her students and their families when an age-appropriate book is turned into a movie (e.g. The Hunger Games). She has a love of travel and has been able to incorporate her experiences into her lessons (e.g. visiting ancient ruins and the like). I have also seen her provide food and clothing to students in need. Furthermore, she has brought some of students to spend time with her horse for some equine therapy to help them deal with anxiety. In a few isolated cases, I know she has offered to drive several hundred miles to pick up a former student to remove them from a turbulent situation.
Ms Brody received a B.A. and her post-baccaulareate studies . from ASU. After helping to create the curriculum for Northeastern University's Legal Nurse Consulting Program, she returned to Arizona and began her teaching career in 2001. She has been in Deer Valley since 2005 previously teaching at Terramar Academy of the Arts, Village Meadows and Mountain Shadows.
A Valley teacher is chosen each month to receive $500 through a nominating process on the firm's website www.bcattorneys.com. Nominations are accepted from students, former students and parents who wish to honor and thank a teacher who has had a profound impact on their life. Many teachers spend their own money to augment the costs of classroom supplies, field trips and other non-covered costs that arise throughout the school year. B&C hopes to alleviate that burden for one deserving teacher each month. In addition, the school where the educator teaches receives a check for $250 to be used at their discretion.

Nominations are open to all teachers in K-12 who teach in Maricopa County. Winners will be notified and then presented a check at their school by a member of Burch & Cracchiolo. Photos and/or video will be taken to post on the firm website and social media. To nominate go to www.bcattorneys.com, click on the "Nominate a Star Teacher" button and tell us why you think your teacher deserves the B&C Star Teacher Award.
About Burch & Cracchiolo, P.A.
Now with 40 attorneys, Burch & Cracchiolo is one of the Southwest's premier law firms. The firm was founded in 1970 by Haze Burch and Dan Cracchiolo and today the firm's lawyers are among the most highly regarded and recognized leaders in the areas of business and corporate law, construction, criminal defense, estate and wealth preservation planning, family law, finance, labor and employment, litigation, personal injury and insurance defense, real estate, and tax law. The firm has a long history of giving back to the community through non-profit sponsorships, donations, and volunteer efforts.