(March 28, 2016…Phoenix, AZ) The law firm of Burch & Cracchiolo, P.A., is pleased to announce that they have been recognized as the #1 law firm in the Tax category in Ranking Arizona, The Best of Arizona, for the third consecutive year.
Here is a complete list of 2016 rankings
#1-Tax
#2-Business/Corporate Law
#2-Overall law firms with 21-50 attorneys
#2-Government Relations
#5-Family Law
"These rankings are reflective of our business track record now and during our long history in the Valley, the state and throughout the western region of the country," comments Firm managing partner Ed Bull. "It is gratifying to know that our clients and colleagues think so highly of the legal work this Firm is known for throughout Arizona and other states, including Nevada, New Mexico and California."
Ranking Arizona is based purely on voter's opinions. Participants vote based on quality of product, service and who they would recommend doing business with. The responses are then assembled and "ranked" according to their total number of votes. Ranking Arizona Magazine is published annually and consists of controlled mailed distribution to primarily upper management executives, presidents, principals and small business.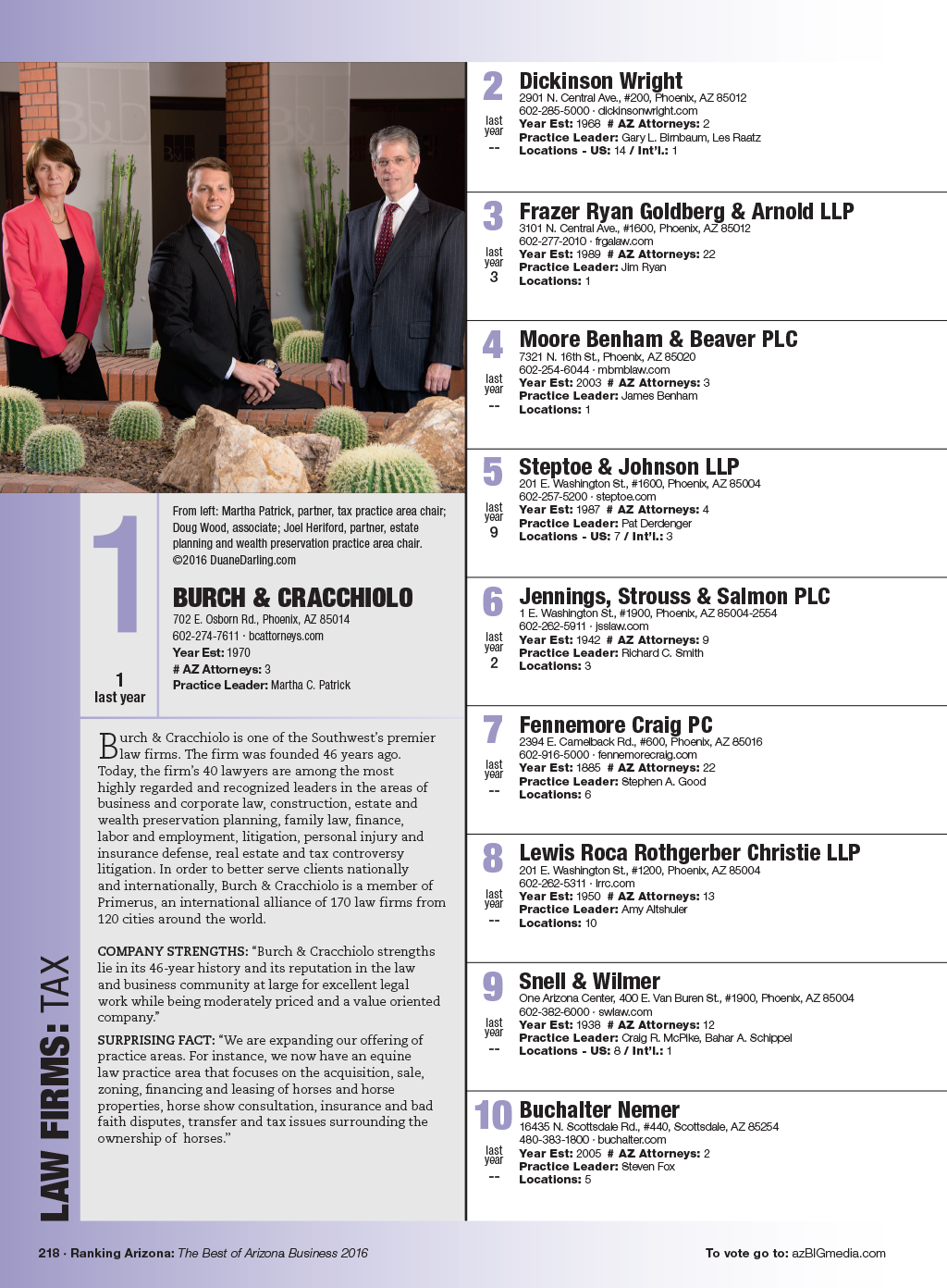 About Burch & Cracchiolo, P.A.
Founded in 1970, Burch and Cracchiolo has 40 attorneys with offices in Arizona, California and Nevada and is one of the Southwest's premier law firms. The firm was founded 46 years ago by Haze Burch and Dan Cracchiolo and today the firm's lawyers are among the most highly regarded and recognized leaders in the areas of business and corporate law, bankruptcy, construction, estate and wealth preservation planning, family law, finance, labor and employment, litigation, personal injury and insurance defense, real estate and tax controversy litigation. The firm has offices in Phoenix, Arizona; Las Vegas, Nevada; and Orange County, California. In order to better serve clients nationally and internationally, Burch & Cracchiolo is a member of Primerus, an international alliance of 170 law firms from 120 cities around the world. For information, visit bcattorneys.com.