(May 18, 2022…Phoenix, AZ) Burch & Cracchiolo proudly names Lauren Hawks the May 2022 Star Teacher. An Arizona State University student who is receiving her master's degree this week, Hawks has been teaching 7th grade math for 2 years through the Teach for America program at Pueblo del Sol Elementary in the Isaac School District. Hawks received a check for $500 to be used for classroom supplies or other non-reimbursable costs.
Hawks was nominated by Christina Spicer, Co-CEO of the Arizona Cactus Pine Girl Scout Council who wrote:
Ms. Hawks is a Teach for America teacher who is teaching 7th grade math to about 130 students at Pueblo del Sol Elementary School (K-8) in the Isaac School District located in Maryvale, Phoenix. Their class motto is to "take ownership of your success." While they discuss what that may look like in terms of advancing mathematically and academically, it also means how they can become the best versions of themselves. Ms. Hawks does this by sharing her own goals, experiences, Asian heritage, and so much more. Ms. Hawks loves getting to see her students' confidence grow in math, but it is equally exciting for her to see them discover more about who they are and gain confidence in themselves. Ms. Hawks is extremely deserving of this award!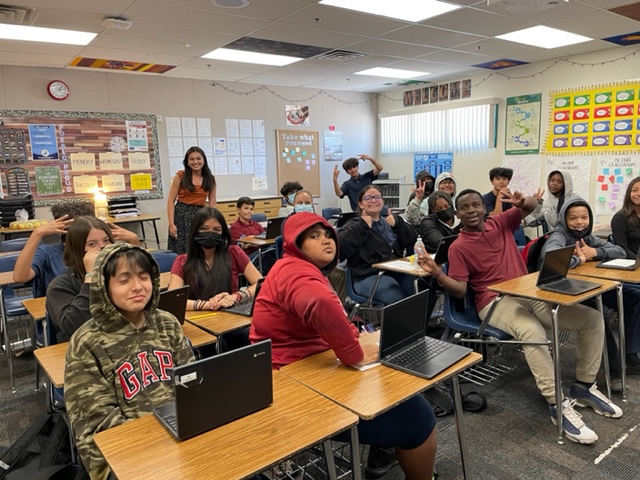 Lauren Hawks and her 7th grade math students

Pueblo del Sol school received an additional check for $250 to be used at the principal's discretion. The school is a K through 8th grade Title 1 school with a current enrollment of 930 students.
Hawks received her M.Ed. in secondary education from Arizona State University in May 2022 and her B.S. in Political Science and Minor in Chinese also from Arizona State in 2020. In addition to teaching, she coaches middle school cheerleading at her school, co-directs the Distinguished Young Women of Arizona scholarship program, and has also served as the Public Relations Chair for the non-profit, Young & Empowered Women. Prior to attending college, Hawks was a Girl Scout Gold Award winner.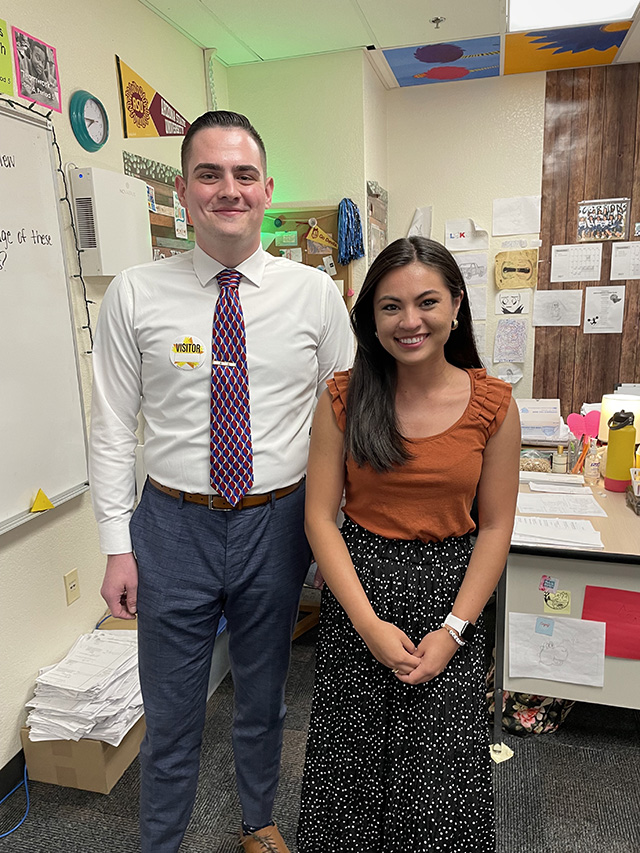 B&C summer associate Myles Lewallen and Lauren Hawks of Pueblo del Sol

A Valley teacher is chosen each month to receive $500 through a nominating process on the firm's website www.bcattorneys.com. Nominations are accepted from students, former students and parents who wish to honor and thank a teacher who has had a profound impact on their life. Many teachers spend their own money to augment the costs of classroom supplies, field trips and other non-covered costs that arise throughout the school year. B&C hopes to alleviate that burden for one deserving teacher each month. In addition, the school where the educator teaches receives a check for $250 to be used at their discretion.

Nominations are open to all teachers in K-12 who teach in Maricopa County. Winners will be notified and then presented a check at their school by a member of Burch & Cracchiolo. Photos and/or video will be taken to post on the firm website and social media. To nominate go to www.bcattorneys.com, click on the "Nominate a Star Teacher" button and tell us why you think your teacher deserves the B&C Star Teacher Award.
About Burch & Cracchiolo, P.A.
Now with 41 attorneys, Burch & Cracchiolo is one of the Southwest's premier law firms. The firm was founded in 1970 by Haze Burch and Dan Cracchiolo and today the firm's lawyers are among the most highly regarded and recognized leaders in the areas of business and corporate law, construction, criminal defense, estate and wealth preservation planning, family law, finance, labor and employment, litigation, personal injury and insurance defense, real estate, and tax law. The firm has a long history of giving back to the community through non-profit sponsorships, donations, and volunteer efforts.