Wendi Sorensen is an experienced litigator and insurance defense attorney at Burch & Cracchiolo. Wendi has been selected as a Southwest Super Lawyer every year since 2012 and was named one of the "Top 25 Women Attorneys in Arizona" in 2013 by Super Lawyers. Most recently, Wendi was named a 2014 "Top Lawyer" in the Specialist category by Arizona Business Magazine.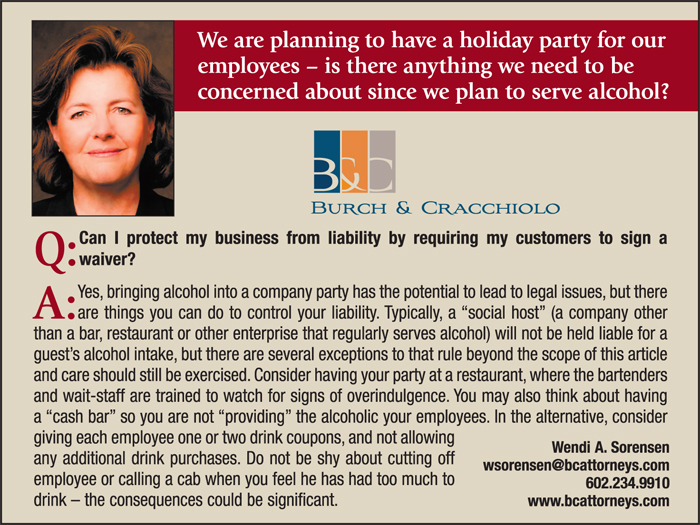 Q: We are planning to have a holiday party for our employees—is there anything we need to be concerned about since we plan to serve alcohol? Can I protect my business from liability by requiring my customers to sign a waiver?
A: Yes, bringing alcohol into a company party has the potential to lead to legal issues, but there are things you can do to control your liability.Typically, a "social host" (a company other than a bar, restaurant, or other enterprise that regularly serves alcohol) will not be held liable for a guest's alcohol intake, but there are several exceptions to that rule beyond the scope of this article and care should still be exercised. Consider having your party at a restaurant, where the bartenders and wait-staff are trained to watch for signs of overindulgence. You may also think about having a "cash bar" so you are not "providing" the alcohol to your employees. In the alternative, consider giving each employee one or two drink coupons, and not allowing any additional drink purchases. Do not be shy about cutting off an employee or calling a cab when you feel he has had too much to drink—the consequences could be significant.