Wendi Sorensen is an experienced litigator and insurance defense attorney at Burch & Cracchiolo. Wendi has been selected as a Southwest Super Lawyer every year since 2012 and was named one of the "Top 25 Women Attorneys in Arizona" in 2013 by Super Lawyers. Most recently, Wendi was named a 2014 "Top Lawyer" in the Specialist category by Arizona Business Magazine.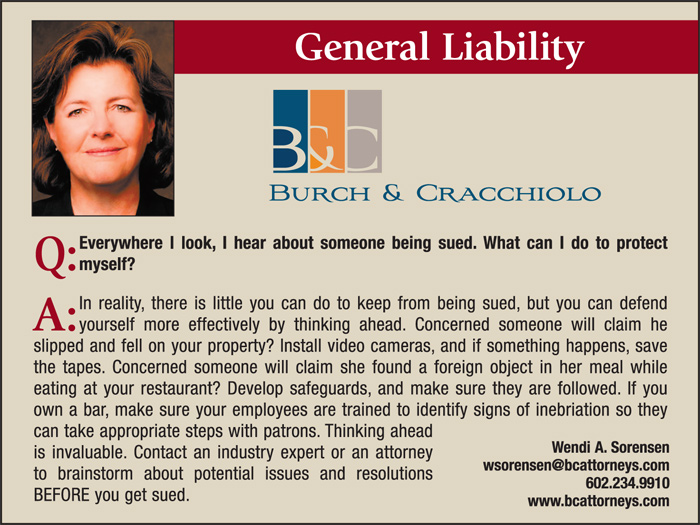 Q: Everywhere I look, I hear about someone being sued. What can I do to protect myself?
A: In reality, there is little you can do to keep from being sued, but you can defend yourself more effectively by thinking ahead. Concerned someone will claim he slipped and fell on your property? Install video cameras, and if something happens save the tapes. Concerned someone will claim she found a foreign object in her meal while eating at your restaurant? Develop safeguards, and make sure tehy are followed. If you own a bar, make sure your employees are trained to identify signs of inebriation so they can take appropriate steps with patrons. Thinking ahead is invaluable. Contact an industry expert or an attorney to brainstorm about potential issues and resolutions BEFORE you get sued.