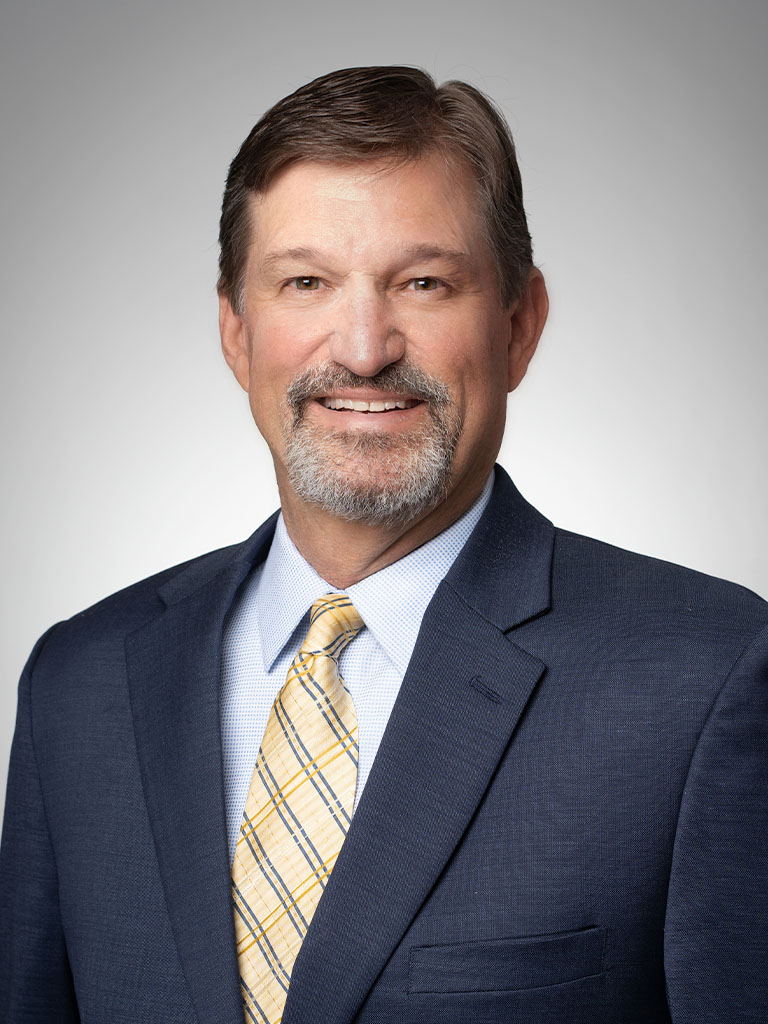 Todd A. Julian
Certified Specialist in Injury and Wrongful Death Litigation, Arizona Board of Legal Specialization
Shareholder— Joined Burch & Cracchiolo in 1989
602-234-8780 602-850-9780

An Arizona Native, Todd is part of an elite group of less than 170 attorneys who are Certified Specialists in Personal Injury and Wrongful Death Litigation by the Arizona Board of Legal Specialization.
Email Todd A. Julian
Assistant
Biography
Theodore "Todd" Julian has been in practice at B&C since 1989. In his career he has defended personal injury claims for insurance companies and self-insured businesses and he also has extensive experience representing personal injury victims and their families. An Arizona Native, Todd is part of an elite group of less than 170 attorneys who are Certified Specialists in Personal Injury and Wrongful Death Litigation by the Arizona Board of Legal Specialization. He represents clients in cases involving personal injury and wrongful death, including auto, trucking and motorcycle collisions, premises liability (slip and fall), dog/animal attacks, explosive and burn injuries and products liability. He has been admitted to practice in various tribal courts in the Western United States and is uniquely qualified from his experience in representing tribal casinos and business enterprises to be able to handle injury claims against casinos where there is no conflict.
Todd is recognized among Southwest Super Lawyers, Arizona's Finest Lawyers, Best Lawyers in America and is a member of the American Board of Trial Advocates. Todd has a peer-review ranking of AV Preeminent 5.0 for professional excellence by Martindale-Hubbell.
Representative Engagements
Represents large grocery store chain in premises liability, auto-trucking and other personal injury claims
Represents risk retention trust in defending claims against school districts
Litigation of claims against Native American tribes, casinos and business enterprises
Represents clients in significant/catastrophic personal injury, and wrongful death claims
Significant Case Outcomes
$2,250,000 settlement for pedestrian hit by a drunk driver, causing severe head and body trauma
$1,250,000 for motorcyclist who was severely injured when a car pulled out in front of him
$1,250,000 settlement for a retired couple driving a golf cart hit by a car that ran a stop sign
$1,300,000 settlement for injuries to a vulnerable adult resident in assisted living facility
$1,500,000 settlement for wrongful death of driver hit by tractor-trailer
Professional Leadership
American Board of Trial Advocates (ABOTA)
Arizona Association for Justice (formerly Arizona Trial Lawyers Association)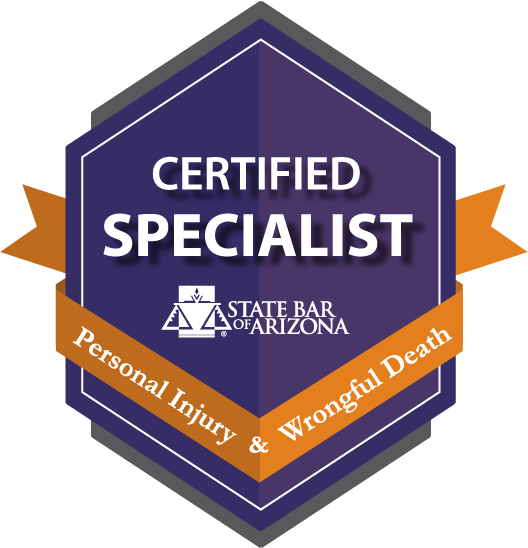 Honors & Awards
Selected, Arizona's Finest Lawyers 2011-2023
Selected, Best Lawyers in America, 2015-2024
Selected, Southwest Super Lawyers 2012-2023
Selected, Phoenix Magazine, Top Lawyers, Personal Injury, 2022, 2023
Selected, Phoenix Magazine, Top Lawyers, Medical Malpractice, 2022, 2023
Ranked AV® Preeminent™ 5.0 out of 5* in Martindale Hubbell

*AV® Preeminent ™ and BV® Distinguished™ are certification marks of Reed Elsevier Properties Inc., used in accordance with the Martindale-Hubbell certification procedures, standards and policies.
Professional Affiliations
State Bar of Arizona
Communications Advisory Committee, 1996 – 2015; (Chair 1998 -2000)
Peer Review Committee, 2000 - 2015, (Chair 2004 - 2015)
Maricopa County Bar Association
MCBA Bench-Bar Committee, 1995 - present, (Chair 2002-2003; 2018-present)
Education
J.D, University of Arizona College of Law, 1989
Editor, Arizona Journal of International and Comparative Law
Honors, Moot Court and Oral Advocacy
Winner, Jenkes Cup, Closing Argument Competition
B.S magna cum laude, University of Arizona, 1986
Admitted In
Arizona
U.S. District Court Arizona, 9th Circuit Court of Appeals
Ak-Chin Community Tribal Court
Cocopah Tribal Court
Colorado River Indian Tribal Court
Ft. McDowell Yavapai Nation Tribal Court
Ft. Mohave Tribal Court
Gila River Indian Community Tribal Court
Hualapai Tribal Court
Navajo Nation (Pro Hac Vice)
San Carlos Apache (Pro Hac Vice)
Salt River Pima (Pro Hac Vice)
Quileute Tribal Court
Tohono O'odham Tribal Court
White Mountain Apache Tribal Court
Wind River Tribal Court
Yavapai-Apache Nation
Admissions pro hac vice in various jurisdictions
Articles
Testimonials
Michael Anderson:

Mr. Todd Julian is an outstanding associate at Burch & Cracchiolo. Todd took the time to explain everything and to ease my stress through a complicated 3 1/2 year ordeal. I absolutely had no idea what it was like to deal with lawyer's, be sued in civil court and as an adult, it was really a new kind of fear. Mr. Julian's professionalism and outstanding character gave me the feeling that he "had my back". So Todd, I want to say thank you, for what you did for me and for my life.
R.H. McKelvey:

I was very satisfied working along with Todd Julian and Bucky Slomski, in which was an emotional time. They were always quick to get back with me and keep me informed. They spoke to you like a friend, and I would defiantly recommend them. Blessings to them.
Megan Kirk:

I contacted this law firm after a horrifying car accident. I have never dealt with lawyers, it was scary. I was assigned to Cindy Messner and Todd Julian. Let me tell you, Cindy was the greatest blessing in our life. She spent hours with us on the phone to ease our worries. She answered any questions we had. She felt more like family than anything. This law firm kept us updated every step of the way. Todd was amazing as well. He was the first Lawyer that we talked to at this firm and made us feel like we were in good hands. I will forever refer people to this firm. They fight for you. they have your best interest at hand. Thank you Cindy and Todd for making this experience so comforting. We will never go to any other law firm. #welovethisfirm #Thankyoucindyandtodd
Wendy Hawkins:

Thank you! Thank you!! I'm forever grateful to Todd Julian and Bucky Slomski for helping me find closure and peace after I was severely injured. They truly cared about me and the trauma I went through. They worked tirelessly through the whole process to uncover the truth. Bucky Slomski is my HERO!! He fought through all the road blocks and walls that were put up and he uncovered the truth of what happened to me. He never stopped digging and grinding through the obstacles. Bucky is an excellent person to have on your side when you are in a similar fight.

After nearly 5 years since my injury, I can finally feel peace and sleep soundly. It is a huge relief and I feel blessed that I had two of the best attorneys working every day to fight for me.
Christina A.:

First I want to thank Todd and Cindy for not only helping me in my case but also helping my son in his case as well as my father in his from years back, in which at this point they made me feel like family. Thank you for your fast responses to my many questions my family and I couldn't of had picked a better law firm! Thank you again Burch & Cracchiolo, P.A you guys are awesome!
Reported Cases
Ward v. Mount Calvary Lutheran Church, 178 Ariz. 350, 873 P.2d 688 (Ct. App. 1994)
Cook v. Avi Casino Enterprises, 548 F.3d 719 (9th Cir. 2008), cert. denied 129 S. Ct. 2159 (2009)
Beltran v. Harrah's Arizona Corporation, 220 Ariz. 29, 202 P.3d 494 (Ct. App. 2008)
Memorandum Decisions
Rucker v. QuikTrip Corporation, 1 CA CV21-0550, 2022 WL 2439767 (7/5/22)
Anderson v. QuikTrip Corporation, 2 CA CV2015-0007, 2015 WL 7304495 (11/20/2015)
Muhammad v. Basha's Inc., 1 CA CV14-0091, 2015 WL 1275432 (3/19/2015)
Wesley v. Bashas' Inc., A CV-2022-0021, San Carlos Apache Court of Appeals (10/13/2012)
Levine v. Parker Unified School District, 1 CA CV10-0029, 2010 WL 5059588 (10/19/2010)
Rosenberg v. Hualapai Indian Nation, 1 CA CV08-0135, 2009 WL 757436 (3/24/2009)
Cook v. Avi Casino Enterprises, Inc., 1 CA CV07-0110, 2008 WL 4108121 (10/28/2008)
Groessl v. Nissan Motor Co., 1 CA CV05-0222 (12/22/2005)
Schindler v. MRA Holdings, Inc., 1 CA CV05-0245 (07/14/2005)
Trujillo v. J. Firpo, LLC, 1 CA CV01-0092
Grantham v. Branch, 1 CA CV93-0564 (7/18/1995)
McGuire v. Caterpillar Tractor Co., 1 CA CV90-332 / 2 CA CV92-0039 (6/11/1992)
Thatcher v. Grannett, 1 CA CV90-261 (12/10/1991)
Community Involvement
Former Board of Directors, Sigma Phi Epsilon Housing Corporation
Former President, Arizona Deer Association
Former City of Phoenix License Appeals Board