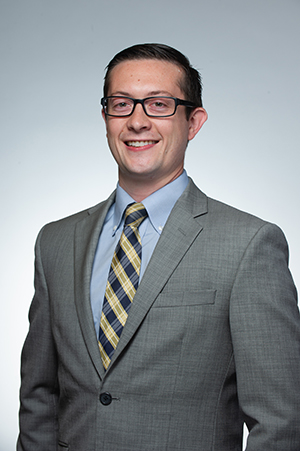 (Oct. 31, 2019…Phoenix, AZ) The law firm of Burch & Cracchiolo, P.A., is pleased to announce Aaron M. Duell has joined the firm as an Associate. Duell's practice will focus on employment law/litigation and commercial litigation.
Prior to joining Burch & Cracchiolo, Duell clerked for the Honorable Dominic W. Lanza at the U.S District Court for the District of Arizona. Prior to that, he worked at the Arizona Attorney General's Office in the Government Accountability and Special Litigation unit. There, he was awarded the 2017 "Emerging Star Award" for the Civil Litigation Division. Duell pursued legal action against cities, counties, and towns deemed to have violated state law and the Arizona constitution. In addition, Duell investigated and prosecuted violations of the Arizona Consumer Fraud Act.
Duell received his J.D. from the Arizona State University Sandra Day O'Connor College of Law in 2016. While there, he contributed to the Jurimetrics Law Journal: ABA Section for Science and Technology. Duell received the Paul Holloway Trial Advocacy Award, three CALI Awards, and was named a Pedrick Scholar. He earned his B.A. in both Political Science and History, magna cum laude, from Arizona State University in 2011.
Duell is licensed to practice in Arizona and is admitted to the U.S. District Court, District of Arizona.
About Burch & Cracchiolo, P.A.
Now with 39 attorneys in its Phoenix office, Burch & Cracchiolo is one of the Southwest's premier law firms. The firm was founded 49 years ago by Haze Burch and Dan Cracchiolo and today the firm's lawyers are among the most highly regarded and recognized leaders in the areas of business and corporate law, construction, estate and wealth preservation planning, family law, finance, intellectual property, labor and employment, commercial litigation, personal injury and insurance defense, real estate and tax controversy.
Burch & Cracchiolo is a member of Primerus, an international alliance of 200 law firms from 40 countries around the world. For information, visit www.bcattorneys.com.