(December 16, 2019…Phoenix, AZ) The law firm of Burch & Cracchiolo, P.A. is proud to announce Candace Greene of Sevilla West School in Phoenix as the December 2019 recipient of the "B&C Star Teacher Award." Greene is an art teacher who has been in the teaching profession for 15 years. She was awarded a check for $500 to use for classroom art supplies and/or a field trip, and a certificate of recognition.

Greene was nominated by Jan Holmes of Act One, an organization committed to bringing the arts to Valley students. Holmes nomination reads, in part:
Candace is an accomplished art teacher and advocate of the arts in education. She has taught for 14 years in the Alhambra Elementary School District and four years in Washington School District. She has been teaching art for 15 years, and she taught music and band for seven years. She also has taught an after-school drama club for 16 years.
Candace is a devoted teacher for students in Arizona's Title 1 schools. She makes sure her students have arts experiences through Act One field trips. Act One brings students from these high-need schools to museum exhibits and performances presented by 57 arts organizations. For the 2019-20 school year, Act One has the capacity to bring 51,000 children to the arts! Candace started working with Act One during the 2017-18 school year and has helped grow Act One's reach within the Alhambra Elementary School District, enabling us to serve more students. She makes sure that new teachers in the district know about our program and how to take advantage of it. Act One pays for tickets and transportation, arranges trip logistics and provides teaching guides and books when funds allow. Every grade at Sevilla West will be taking an Act One field trip this school year.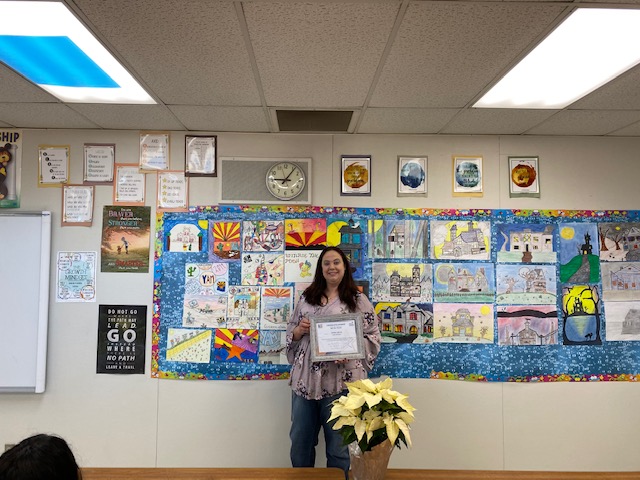 Candace is truly a Star Teacher!
Greene was presented the award by B&C attorney and Firm partner Wendi A. Sorensen.
A Valley teacher is chosen each month to receive $500 through a nominating process on the firm's website www.bcattorneys.com. Nominations will be accepted from students, former students and parents who wish to honor and thank a teacher who has had a great impact on their life. Many teachers spend their own money to augment the costs of classroom supplies, field trips and other non-covered costs that arise throughout the school year. B&C hopes to alleviate that burden for one deserving teacher each month.
Nominations are open to all teachers in K-12 who teach in Maricopa County. Winners will be notified and then presented a check at their school by a member of Burch & Cracchiolo. Photos and/or video will be taken to post on the firm website and social media. To nominate go to www.bcattorneys.com, click on the "Nominate a Star Teacher" button and tell us why you think your teacher deserves the B&C Star Teacher Award..
About Burch & Cracchiolo, P.A.
Now with 39 attorneys, Burch & Cracchiolo is one of the Southwest's premier law firms. The firm was founded in 1970 by Haze Burch and Dan Cracchiolo and today the firm's lawyers are among the most highly regarded and recognized leaders in the areas of business and corporate law, construction, estate and wealth preservation planning, family law, finance, intellectual property, labor and employment, litigation, personal injury and insurance defense, real estate and tax law. The firm has a long history of giving back to the community through non-profit sponsorships, donations and volunteer efforts.