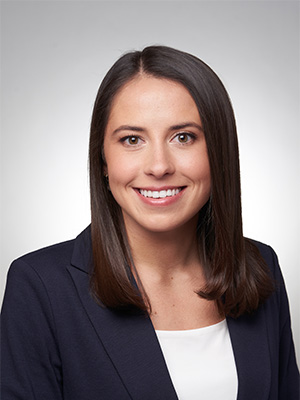 (November 30, 2021…Phoenix, AZ) The law firm of Burch & Cracchiolo, P.A., is pleased to announce Juliana "Julie" K. Lauria has joined the Firm as an associate. She is a recent Arizona State University Sandra Day O'Connor School of Law graduate who will focus her practice on employment law and litigation.
Julie received her J.D. from ASU Sandra Day O'Connor School of Law in 2021, and her B.A. in government from The University of Texas at Austin in 2018. While at The University of Texas, Julie was on the Dean's List and a member of Alpha Phi Fraternity.
Prior to joining Burch & Cracchiolo Julie served as a Firm summer law clerk in 2019 and 2020. In addition, she was a legal extern for the Arizona House of Representatives Rules Office and for the Arizona League of Cities and Towns. While an undergraduate, Julie was a research intern at the Annette Strauss Institute in 2017-2018 where she developed the Comparative Agendas Project for the city of Austin, Texas.
About Burch & Cracchiolo, P.A.
Now with 40 attorneys in its Phoenix office, Burch & Cracchiolo is one of the Southwest's premier law firms. The firm was founded 51 years ago by Haze Burch and Dan Cracchiolo and today the firm's lawyers are among the most highly regarded and recognized leaders in the areas of business and corporate law, construction, criminal law, estate and wealth preservation planning, family law, finance, intellectual property, labor and employment, litigation, personal injury and insurance defense, real estate and taxation.
Burch & Cracchiolo is a member of Primerus, an international alliance of 200 law firms from 40 countries around the world. For information, visit www.bcattorneys.com.