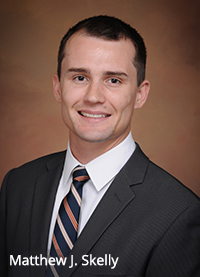 The law firm of Burch & Cracchiolo, P.A., is pleased to announce Matthew J. Skelly has joined the Firm as associate attorney. Skelly will focus his practice in the area of commercial litigation.
Skelly received his J.D. from the University of Arizona James E. Rogers College of Law in 2016. Prior to attending law school he received his B.A. in English from Grinnell College in Grinnell, IA in 2012. During law school he completed a summer internship at Holloway, Odegard & Kelly in Phoenix from June through August 2015. Skelly served as a legal intern at U-Haul Headquarters in Phoenix from June 2014 through May 2015. In addition, he was bailiff to the Honorable Michael McVay, Civil Division, and the Honorable Karen Mullins, Criminal Division in the Maricopa Superior Court in 2012 and 2013, respectively. He is admitted to practice law in Arizona
An Arizona native, Skelly graduated from St. Mary's High School in 2008. Basketball is his passion where he excelled at St. Mary's and Grinnell College.
About Burch & Cracchiolo, P.A.
Now with 41 attorneys in its Phoenix office, Burch & Cracchiolo is one of the Southwest's premier law firms. The firm was founded 46 years ago by Haze Burch and Dan Cracchiolo and today the firm's lawyers are among the most highly regarded and recognized leaders in the areas of business and corporate law, construction, estate and wealth preservation planning, family law, finance, labor and employment, litigation, personal injury and insurance defense, real estate and tax controversy litigation.
Burch & Cracchiolo is a member of Primerus, an international alliance of 170 law firms from 120 cities around the world. For information, visit bcattorneys.com.