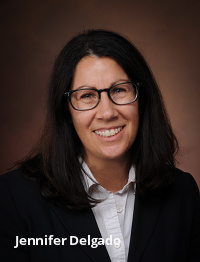 Meet Jennifer Delgado....
I've been practicing in Arizona for 18 years and before joining Burch & Cracchiolo in September 2017, I ran my own solo practice for the previous 12 years. Before then, I was an associate at Gallagher & Kennedy. I focus exclusively on real estate and business transactions. I represent a lot of small companies and entrepreneurs and provide just about any type of general counsel services for them, including consulting on and forming the legal entity structure, drafting just about any type of business contract (for example, independent contractor agreements, service vendor agreements, liability waiver agreements, noncompete or confidentiality agreements, general customer/client agreements, licensing or franchise agreements), IP work, like trademark registrations, secured transactions, buy/sell agreements and dissolution and winding up of companies. My clients range from hair salons, to nightclubs, to physical therapists, to web developers, to start up tech companies, to clothing boutiques, to bars, restaurants and coffee shops. In addition to my corporate work, I also handle real estate transactions, such as purchase and sale transactions, entitlements, financing arrangements, and leasing, for just about any type of real estate investor, developer or company.
My goal has always been simple: To provide the highest level of knowledge, guidance and experience within my practice areas, while delivering a personal level of service generally unseen in the legal profession, all at cost-effective rates and within the requirements of my clients needs.