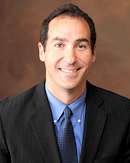 (April 1, 2013…Phoenix, AZ) The law firm of Burch & Cracchiolo, P.A., is pleased to announce that Michael S. Mandell has joined the firm as Of Counsel. Michael brings his substantial experience in governmental relations, public agency law, constitutional law, business litigation and transactions and election law.
"Burch & Cracchiolo is pleased to welcome Michael to the Firm," said Firm president, Ed Bull. "He has built a reputation as a very knowledgeable and experienced litigator and government relations attorney. His expertise will enhance our current practice and allow us to provide a broader level of service to our clients."
An Arizona native, Mandell has served as a Law Clerk for the Honorable Noel Fidel of the Arizona Court of Appeals and as a litigator and governmental relations attorney at Perkins Coie. Michael has also served as the Minority General Legal Counsel and Chief of Staff for the Arizona State Senate and House of Representatives, where he primarily advised legislators on Arizona and federal constitutional issues affecting pending legislation. Michael also created the Mandell Law Firm, LLC, focusing on election law, business litigation and transactional services.
Michael received his J.D., cum laude, Order of the Coif, in 1998 and his B.S. in psychology in 1991 from Arizona State University. He is admitted to practice in the Arizona Supreme Court, the United States District Court and the United States Circuit Court of Appeals.
About Burch & Cracchiolo, P.A.
Serving corporate, governmental and individual clients throughout the Southwest and nationally, Burch & Cracchiolo is known for outstanding and cost-effective representation that emphasizes client objectives. The firm has offices in Phoenix, Arizona; Las Vegas, Nevada; and Orange County, California. A number of our lawyers are recognized in Best Lawyers in America, Super Lawyers of the Southwest, Arizona's Finest Lawyers, Chambers USA, National Trial Lawyers and more. Our firm has been recognized as one of the Best Places to Work in Arizona. In order to better serve clients nationally and internationally, Burch & Cracchiolo is a member of Primerus, an international alliance of 170 law firms from 120 cities around the world.