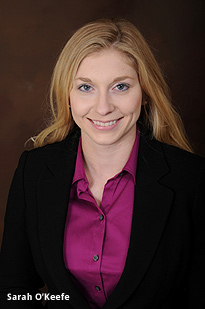 (September 4, 2013…Phoenix, AZ) The law firm of Burch & Cracchiolo, P.A., is pleased to announce Sarah N. O'Keefe has joined the firm as an Associate attorney. Sarah joined Burch & Cracchiolo in 2013 after having completing an appellate clerckship with The Honorable Patricia K. Norris of the Division One of the Arizona Court of Appeals. During her clerkship Sarah researched and analyzed novel issues in many areas of the law including civil, criminal, family, unemployment, workers compensation, and juvenile to advise and recommend the resolution of appellate cases to a rotating three-judge panel. During law school she was a law clerk for Clear Channel, as well as The Hassett Law Firm, and was a research assistant for the Ross Blakely Law Library. Sarah also completed a summer internship at Burch & Cracchiolo in 2011.
Sarah received her J.D. from the Sandra Day O'Connor College of Law at Arizona State University and her B.S. in Finance from the W. P. Carey Business School at Arizona State University. She graduated from the Barrett Honors College, completing her thesis on the Arizona Worker's Legal Act: "The Arizona Employer Sanctions Law". During her studies, Sarah was awarded the ASU Center for Law, Science and Innovation Scholarship, the ASU President's Scholarship and was a Pedrick Scholar. She was a member of Gold Key International, Beta Gamma Sigma Business Honors Society, and the Phi Delta Phi Law Fraternity.

About Burch & Cracchiolo, P.A.
Now with 43 attorneys in its Phoenix office, Burch & Cracchiolo is one of the Southwest's premier law firms. The firm was founded 43 years ago by Haze Burch and Dan Cracchiolo and today the firm's lawyers are among the most highly regarded and recognized leaders in the areas of business and corporate law, construction, estate and wealth preservation planning, family law, finance, labor and employment, litigation, personal injury and insurance defense, real estate and tax controversy litigation. The firm has offices in Phoenix, Arizona; Las Vegas, Nevada; and Orange County, California. In order to better serve clients nationally and internationally, Burch & Cracchiolo is a member of Primerus, an international alliance of 170 law firms from 120 cities around the world. For information, visit bcattorneys.com.