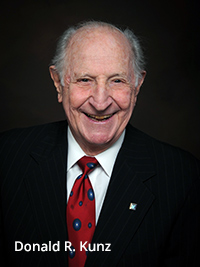 (January 19, 2016…Phoenix, AZ) Burch & Cracchiolo, P.A., is pleased to announce Donald R. Kunz has joined the firm Of Counsel. Don practices in the areas of commercial litigation, insurance coverage and insurer bad faith. He is in the 61st year of a vigorous and varied trial practice. Kunz is one of the few lawyers in the United States who has ever tried and/or appealed an APEX case involving litigation stemming from mining laws in the western United States. Kunz is looked upon by his peers as being a lawyer who is pre-eminent in the field of legal ethics. The State Bar of Arizona has named him as a lawyer who "exemplifies professionalism."
In addition, Don has served as lead counsel in both bench and jury trials in Arizona's Trial Courts, Arizona's Court of Appeals and the Arizona Supreme Court. He has led appeals on more than 100 cases in Trial and Appellate Courts of the Arizona Federal Judiciary, the Supreme Court of Arizona, the Supreme Court of Idaho, and the Supreme Court of Wyoming.
Don is a Fellow in the International Academy of Trial Lawyers, a founding member of the Arizona Association of Defense Counsel, and a Founding Fellow of the Arizona Bar Foundation. He served two terms as a member of the Peer Review Committee of the State Bar of Arizona since its creation.
Don earned his J. D. from the University of Iowa and the University of Arizona in 1955 and his B.A. in English Literature from the University of Iowa in 1951.
Over the past 25 years, Don has been an active participant in organized archaeological digs on the Gaza Plateau in the Great Pyramids of Egypt under the auspices of Harvard University and the Oriental Institute of the University of Chicago; Luxor, Egypt in the Valley of the Kings under the auspices of the University of California at Berkley. American University in Cairo, the University of Athens and the University of Michigan, Ann Arbor. He recently completed his third term as a member of the Board of Governors of the American Research Center in Egypt, which offices in Cairo.
About Burch & Cracchiolo, P.A.
Now with 40 attorneys in its Phoenix office, Burch & Cracchiolo is one of the Southwest's premier law firms. The firm was founded 46 years ago by Haze Burch and Dan Cracchiolo and today the firm's lawyers are among the most highly regarded and recognized leaders in the areas of business and corporate law, construction, estate and wealth preservation planning, family law, finance, labor and employment, litigation, personal injury and insurance defense, real estate and tax controversy litigation.
Burch & Cracchiolo is a member of Primerus, an international alliance of 170 law firms from 120 cities around the world. For information, visit bcattorneys.com.