EQUINE LAW? WHAT IS IT, AND WHY WOULD I NEED AN EQUINE LAW ATTORNEY?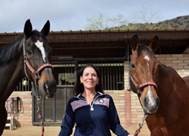 If you own or are buying or leasing a horse or horse property; if you ride (and fall), if you are a horse trainer, barn manager or wrangler; if you breed horses; or, if you create a logo or trade name for your facility, then you may need an equine law attorney who can provide horse sense advice, talk the talk, and, sometimes, whisper you down from the ledge.
There are areas in which an equine law attorney can help, alone or in conjunction with attorneys in other practice areas, to provide you with the proper team. As an equine law attorney, I can help with:
The purchase, sale, zoning, financing, construction and leasing of horse properties and sale/purchase and leasing of horses.
Preparation of and assistance with other agreements, including: boarding, management; training; indemnities, releases and waivers; and signage.
Entity formation: should you form a limited liability company for your business or the ownership of your horses?
Insurance: what do you have; what do you need?
Litigation support: I work with the litigator, and, I can give practical advice. Is there someone who caused the injury, death or loss of use of your horse who might be able to compensate you; is insurance available; did you purchase a horse that is not what you thought you were buying, and what was your due diligence in that purchase? What is the value of the horse; what are your vet or medical expenses, and how do those relate to potential attorneys' fees; what is the stress level you can handle; what experts will agree with you and testify for you; did you get a pre-purchase exam?
Other areas:
Estate planning.
Family Law.
Intellectual property.
Labor and employment.
Liens.
Tax Law.
STEPS YOU CAN TAKE:
If you own a horse business, use reasonable care, whether in hiring, matching up horses with riders, keeping your equipment in good condition and getting waivers and releases. Have appropriate insurance. If someone points out a dangerous condition, fix it before any harm is done. If you are buying a horse, get a pre-purchase exam, the cost and scope of which will depend on price, use and what you want to know.
Remember that the payment for the horse or horse property is only the beginning of your expenses. Riding and owning horses are great joys in life. Protect the joy; be aware of the pitfalls. When problems arise, an equine law attorney may be able to get the nail in the shoe before your kingdom is lost.