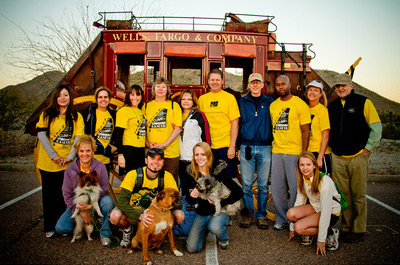 Burch & Cracchiolo participants in the "Climb to Conquer Cancer" are (back row left to right): Albina Montes, Kami Kline, Michelle Mercure, Betty Bement, Debra Wedlake, Tim Wedlake, Daryl Manhart, Ralph Cruddup, Lori Boukatch and Ian Neale (front row left to right): Lisa Nelson,
John Hindman, Kira Andreyeva,
and Sophie Boukatch.
Burch & Cracchiolo employees and family members once again participated in the American Cancer Society's "Climb to Conquer Cancer" on Saturday, February 25th at South Mountain Park. The enthusiastic group of 14, led by Team Captain Debra Wedlake, also included 3 four-legged "friends" who inspired the group with their energy. The Climb is a non-competitive walk to raise awareness and dollars to fight cancer. The route is 5 miles to the summit and a 2 mile trip down on the Holbert Trail. Burch & Cracchiolo underwrote the $40 registration fee for employees who participated, while others simply contributed. "Cancer touches all of our lives," said Wedlake, herself a cancer survivor. "I am proud to work for an organization who contributes to the community in such a meaningful way. In addition, it is a great employee bonding experience to complete this together."