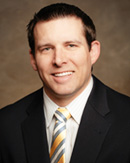 Burch & Cracchiolo, P.A. has again conducted a food and donation drive to support the programs of St. Vincent de Paul, including Turkey Tuesday on November 20, 2012. Attorney Brennan Ray represented the firm during KPNX Channel 12's Turkey Drive by presenting a check for $1,000 to St. Vincent de Paul on behalf of the Firm.
A long tradition at the Firm, staff employees and shareholders donated $3,700 in monetary donations and gift cards, including a contribution of $2,000 made by The Steele Foundation. In addition, seven boxes of food collected by employees were included in the delivery. The campaign was spearheaded by Assistant Administrator, Diane Husband, who comments, "Burch and Cracchiolo has been a strong supporter of St. Vincent de Paul for years, especially during the holiday season. The current economy has made the need greater than ever and we are thankful that we can help."
About Burch & Cracchiolo, P.A.
Now with 42 attorneys in its Phoenix office, Burch & Cracchiolo, P.A. (bcattorneys.com) was founded 42 years ago by Haze Burch, now deceased, and Dan Cracchiolo one of Arizona's premier lawyers who continues to engage in a thriving practice. The firm's lawyers are leaders in the areas of business and corporate law, construction, estate and wealth preservation planning, family law, finance, labor and employment, litigation, real estate and taxation. Serving corporate, governmental and individual clients throughout the Southwest and nationally, Burch & Cracchiolo is known for outstanding and cost-effective representation that emphasizes client objectives. The firm has offices in Phoenix, Arizona; Las Vegas, Nevada; and Orange County, California. In order to better serve clients nationally and internationally, Burch & Cracchiolo is a member of Primerus, an international alliance of 170 law firms from 120 cities around the world. Firm co-founder, Dan Cracchiolo, has been a Trustee of the Steele Foundation since he helped form it on behalf of his clients, Horace and Ethel Steele. The Steele Foundation is among the Valley's top 15 foundations. For information, contact Chris Long at 602.234.8746 or clong@bcattorneys.com
About St. Vincent de Paul
The Society of St. Vincent de Paul is an international non-profit organization dedicated to serving the
poor and providing others with the opportunity to serve. The Phoenix Diocesan Council has been assisting central and northern Arizona families since 1946. Programs include services for the homeless, medical and dental care for the working poor, charity dining rooms, thrift stores, a transitional housing shelter and general assistance for individuals in need.