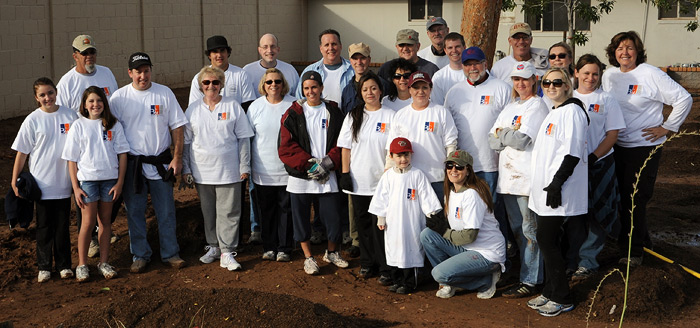 (November 14, 2011…Phoenix, AZ) Employees of Burch & Cracchiolo and several of their family members teamed up on a recent Saturday morning to brighten Maggie's Place and bring smiles and comfort to the women and children who live there. The B&C team shoveled tons of gravel and dug through dirt that resembled cement to install plants and a paver patio, creating a playground and transforming a barren lot into a beautiful area to be enjoyed by the residents. The employees were part of the 24th Valley Partnership "Building Communities with Heart" that annually brings together Valley companies to complete a much deserved community project. Maggie's Place provides houses of hospitality to expectant mothers who are alone or living on the streets. Maggie's Place provides for the immediate physical and emotional needs of their guests including shelter, food, clothing, and a supportive community. In addition, Maggie's Place connects mothers to appropriate agencies and resources including prenatal care, health insurance, low- cost housing and child care.
About Burch & Cracchiolo, P.A.
Now with 46 attorneys in its Phoenix office, Burch & Cracchiolo, P.A. (bcattorneys.com) was founded 40 years ago by Haze Burch, now deceased, and Dan Cracchiolo one of Arizona's premier lawyers who continues to engage in a thriving practice. The firm's lawyers are leaders in the areas of business and corporate law, construction, estate and wealth preservation planning, family law, finance, labor and employment, litigation, real estate and taxation. Serving corporate, governmental and individual clients throughout the Southwest and nationally, Burch & Cracchiolo is known for outstanding and cost-effective representation that emphasizes client objectives. The firm has offices in Phoenix, Arizona; Las Vegas, Nevada; and Orange County, California. In order to better serve clients nationally and internationally, Burch & Cracchiolo is a member of Primerus, an international alliance of 170 law firms from 120 cities around the world. Firm co-founder, Dan Cracchiolo, has been a Trustee of the Steele Foundation since he helped form it on behalf of his clients, Horace and Ethel Steele. The Steele Foundation is among the Valley's top 15 foundations. For information, contact Cheryl Walsh at 602.234.8793 or visit bcattorneys.com.